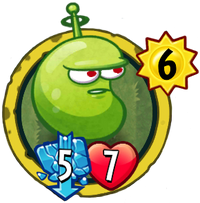 For other versions, see Laser Bean (disambiguation).
Laser Bean (PvZH)

Statistics
Strength
Health
Cost
4
6
6
Set
Premium
Rarity
Rare
Class
Tribe
Bean Plant
Traits
Strikethrough
"Physics, baby! I'm emittin' all KINDS of coherent radiation!"
Laser Bean is a premium rare plant card in Plants vs. Zombies Heroes, and a member of the 

Solar class. It costs 6
to play, and has 4
/6

. It has the

Strikethrough trait, and does not have any abilities.
Statistics
Class: Solar
Tribe: Bean Plant
Trait: Strikethrough
Abilities: None
Set - Rarity: Premium - Rare
Card description
"Physics, baby! I'm emittin' all KINDS of coherent radiation!"
Update history
Update 1.2.11
Set - Rarity change: Basic - Uncommon → Premium - Rare
Update 1.4.14
Design change: The color of the laser it fires has been changed from red to blue.
Strategies
With
Laser Bean is more similarly like Power Flower, but with the addition of 1 strength and health. However, it lacks Power Flower's ability, costs 1 more sun, and can't get the benefit from Briar Rose. Since Laser Bean is a bean, Rose can use it in her bean-based deck. Wall-Knight can put defensive plants in front of Laser Bean, making it even harder to destroy. And finally, Solar Flare and Chompzilla can boost its strength to make it hit harder.
Against
Laser Bean can both damage you and the zombie in front because of its

Strikethrough trait, and its health makes it quite hard to destroy. But due to its base strength, it is naturally vulnerable to Rocket Science. Any other trick, such as Locust Swarm or B-flat should be able to destroy it. It can also be destroyed by The Smash's Slammin' Smackdown. The player can play Hail-a-Copter, Deep Sea Gargantuar, or Trickster to take it out quickly, although the former two would be heavily damaged.
In addition, reducing its strength using Pied Piper, Nibble, or Landscaper can reduce Laser Bean's damage output if you are unable to take it out. Rustbolt can play his signature superpower, Shrink Ray, and then play Rolling Stone to take this out efficiently.
Gallery
Old
Trivia
Its description is particularly confusing, as lasers are created by light, not radiation.
It is the only bean plant in the Solar class.