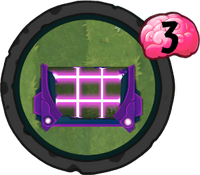 Laser Base Alpha

Statistics
Strength
Health
Cost
-
-
3
Set
Galactic
Rarity
Super-Rare
Class
Tribe
Science Environment
Abilities
Zombies here get Deadly and Strikethrough.
Zombies with LASERS. What could possibly go wrong?
Laser Base Alpha is a galactic super-rare zombie environment card in Plants vs. Zombies Heroes, and a member of the
Sneaky class. It costs 3

to play, and its ability gives all zombies in it the

Deadly and
Strikethrough traits. This ability persists until Laser Base Alpha is overridden by another environment.
Statistics
Class: Sneaky
Tribe: Science Environment
Ability: Zombies here get Deadly and Strikethrough.
Set - Rarity: Galactic - Super-Rare
Card description
Zombies with LASERS. What could possibly go wrong?
Update history
Update 1.16.10
Strategies
With
This environment can actually make any zombie very powerful as it gives that zombie both

Deadly and
Strikethrough. This works powerfully against two tough plants on the same lane as you can destroy both of these plants instantly as well as inflict damage to your opponent. You can play this on a lane with a very strong zombie such as Valkyrie, resulting in that zombie plowing through all plants in front of it on top of doing sufficient damage to your opponent, allowing you to win the battle more easily.
Another way to benefit this environment is playing any zombie whose ability activates when it hurts your opponent, destroys a plant, or does damage in general, such as:
Combining this environment with zombies with

Frenzy like Interstellar Bounty Hunter can be very potent, as they will destroy every plant in the lane, then do 0 to 2 extra bonus attacks depending on the number of plants destroyed, doing a lot of damage to your opponent.
As this environment gives these two powerful traits, it is not recommended to play zombies that already have

Deadly or
Strikethrough, unless one of these traits are missing and needed for that zombie.
You can play Fireworks Zombie on this if the field is full of powerful plants, as he will destroy all of them with the

Deadly trait. However, beware, as doing this will destroy all of your zombies as well.
Since this is a science card, Interdimensional Zombie's ability can be activated if this gets played.
Against
This is a very dangerous environment for any zombie as it can destroy all of your plants on that lane and do damage to you at the same time. If possible, try to replace this environment with one of yours as quickly as possible before the zombie there can cause chaos and end the battle in your opponent's favor. If a strong zombie is in Laser Base Alpha, destroy that zombie quickly as it can turn out very dangerous towards your defenses.
Do not bother playing any plants with high health and low strength to block the damage, as the zombies will just destroy the plant. Using Team-Up plants don't help either, as the
Strikethrough trait hits the plant behind them as well. Instead, using glass cannons like Magnifying Grass will dispose of the zombies much more quickly.
Plants with the

Armored trait will be able to stay alive if the zombie played there has only 1

.
Gallery
Trivia
Its original ability gave zombies +1 instead of the Deadly trait.
It is the first and currently the only card to give a fighter more than one trait at once.