Ad blocker interference detected!
Wikia is a free-to-use site that makes money from advertising. We have a modified experience for viewers using ad blockers

Wikia is not accessible if you've made further modifications. Remove the custom ad blocker rule(s) and the page will load as expected.

For the level after the v1.8 update, see Kongfu World - Day 6.
"

If I plant Iceberg Lettuce on the whole lawn, then that'll be crazy!

"

—Crazy Dave
Kongfu World - Day 6 is the sixth level of Kongfu World in the Chinese version of Plants vs. Zombies 2. This is the first and the tutorial Powder Keg level of Kongfu World, as well as the intended first in the game. When this level is finished for the first time, the player receives a star.
Dialogue
(Crazy Dave appears)
Crazy Dave: Why are there zombies which carry bombs in Kongfu World?
(Penny appears)
Penny: Because the detector discovered there are a lot of explosives here, be careful of the flammable lines.
Crazy Dave: If I plant Iceberg Lettuce on the whole lawn, then that'll be crazy!
(Crazy Dave and Penny leave)
Difficulty
Placing Iceberg Lettuces as far behind as possible is the best choice to avoid a sudden game over, as it will stop the fire when it almost reach the gunpowder barrel, plus, the zombies can only burn when the player's defense is broken after this. Using Snow Pea is also a good idea.
The player should remember that this level is practically without lawn mowers and that the gunpowder barrels are entirely detrimental, however, this is also a Special Delivery level, which will bring the player enough ice plants to use, making this level easy.
Strategy
Gallery
Walkthrough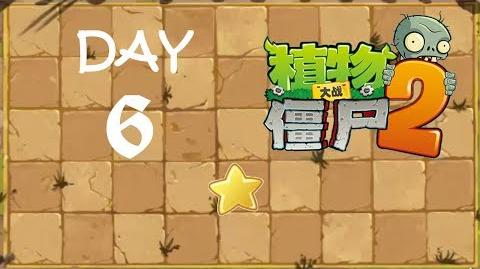 * A gate can be unlocked with a key after completing this level
^ Conjectural name