Ad blocker interference detected!
Wikia is a free-to-use site that makes money from advertising. We have a modified experience for viewers using ad blockers

Wikia is not accessible if you've made further modifications. Remove the custom ad blocker rule(s) and the page will load as expected.

For the level after the v1.8 update, see Kongfu World - Day 14.
Kongfu World - Day 14 is the fourteenth level of Kongfu World in the Chinese version of Plants vs. Zombies 2. When this level is finished for the first time, the player receives a star.
Difficulty
As nearly all the special zombies of Kung-Fu World the player has encountered before appear in this level, it should not be taken lightly.
Drinking Zombie is now a bigger threat, and Qigong Zombie can also be a problem if the player does not utilize White Radish.
Winter Melons are valuable plants and should be planted as much to the left as possible. White Radishes should be planted in front of Tall-nuts as the latter provide great protection from most zombies. Fire Gourds should be planted in a way that makes the best out of its short-ranged attack.
Walkthrough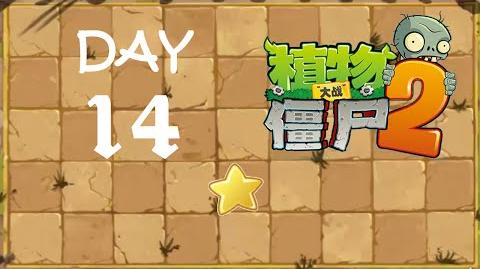 * A gate can be unlocked with a key after completing this level
^ Conjectural name