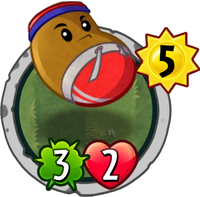 For other usages of beans, see bean.
Jumping Bean

Statistics
Strength
Health
Cost
3
2
5
Set
Premium
Rarity
Rare
Class
Tribe
Bean Plant
Abilities
When played: Bounce a Zombie.
I'm more than just a jumper... I can also leap and vault!
Jumping Bean is a premium rare plant card appearing in Plants vs. Zombies Heroes and a member of the

Smarty plants. It costs 5
and has 3
/2

when first played. When played, it will bounce a zombie. Its zombie counterpart is Pogo Bouncer.
Origins
Its name is a reference to the Mexican jumping bean, a seed pod that is known to jump around due to the small larva of a moth located inside the seed pod.
Statistics
Class: Smarty
Tribe: Bean Plant
Abilities: When played: Bounce a Zombie.
Set - Rarity: Premium - Rare
Card description
"I'm more than just a jumper... I can also leap and vault!"
Strategies
With
Jumping Bean has poor stats for a 5
plant. However, its special ability is what makes it useful. With it, the player can remove a zombie from the field so that

Anti-Hero plants can attack the zombie hero. The player can also use it to bounce a buffed zombie into the zombie hero's hand, returning its stats to normal. Although, this plant does cost a lot, so keep in mind remaining sun after using this.
Against
Against Jumping Bean, there is not much that can be done. If all brains have been used placing Zombies, Jumping Bean will take effect with no consequence. However, with extra brains for tricks, this plant can be handled. Bungee Plumber will immediately destroy it, along with The Chickening. Using Teleport on the zombie that was bounced can also reverse the ability of Jumping Bean. Although, that zombie's stats will be reset. Placing zombies such as Electrician and Gadget Scientist can also be helpful, as the plant hero will have to second guess using Jumping Bean, as that zombie's effect can be done again. Do not bounce Jumping Bean, as it can bounce another zombie again. Additionally, beware buffing one singular zombie, as Jumping Bean will have an obvious target, as well as wasting the time it took buffing said zombie.
Gallery
Old
Trivia
Its appearance references how the real-life jumping bean jumps, as Jumping Bean is wearing an outfit which resembles that of real-life Olympic long jumpers and high jumpers.