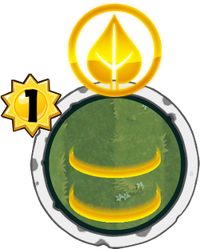 Inspire

Statistics
Strength
Health
Cost
-
-
1
Rarity
Common
Class
Neutral
Tribe
Superpower Trick
Abilities
A Plant gets +1/+1.
One small step for Plants. One giant leap for Plant-kind!
Inspire is an unused undroppable common plant superpower trick card appearing in Plants vs. Zombies Heroes, and was a member of the plant superpowers. It cost 1
to play, and was used by any plant hero. When played, it increases a plant's strength and health by +1
/+1

. Its zombie counterpart is Motivate.
Inspire, alongside the other neutral superpowers, was scrapped in 1.2.11 update as superpowers became bounded to Heroes.
Origins
Inspire is based on the L.E.A.F. symbol, or the badge symbol that represents the Plant Heroes. Its name means to fill someone with the urge or ability to do or feel something, especially to do something creative. It may also mean to breathe in air, as plants also need oxygen for their respiration cycle.
Statistics
Class: Neutral
Tribe: Superpower Trick
Abilities: A Plant gets +1/+1.
Rarity: Common
Card description
One small step for Plants. One giant leap for Plant-kind!
Strategies
Inspire can be used as an early boost or as a last-ditch effort. Depending on situations, if you have early advantages, you can use this trick to boost early game plants like Peashooter or Bonk Choy. If you managed to save this until late game, you can use this to even boost a bit to already powerful plants like Grapes of Wrath.
Gallery
Trivia
Its description is a reference to the quote made by Neil Armstrong upon setting foot on the Moon. The quote goes: "That's one small step for man, one giant leap for mankind."
Sea also