Ad blocker interference detected!
Wikia is a free-to-use site that makes money from advertising. We have a modified experience for viewers using ad blockers

Wikia is not accessible if you've made further modifications. Remove the custom ad blocker rule(s) and the page will load as expected.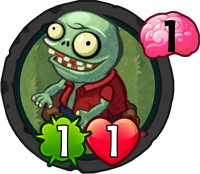 For other versions, see Imp (disambiguation).
Imp (PvZH)

Statistics
Strength
Health
Cost
1
1
1
Set
Basic
Rarity
Common
Class
Tribe
Imp Zombie
He's proficient in Zombie judo and Zombie karate. He also plays the Melodica.
Imp is a basic common zombie card in Plants vs. Zombies Heroes, and a member of the
Sneaky class. He costs 1

to play, and has 1
/1

. He does not have any special abilities.
He is the basic zombie of the
Sneaky class.
Statistics
Class: Sneaky
Tribe: Imp Zombie
Abilities: None
Set - Rarity: Basic - Common
Card description
He's proficient in Zombie judo and Zombie karate. He also plays the Melodica.
Update History
Update 1.2.11
▼

Strength change: 2 → 1.

▼

Health change: 2 → 1.
Imp is now the basic zombie of the Sneaky class.
Strategies
With
While Imp is very weak, he should not be underestimated due to him taking benefit from Toxic Waste Imp as well as activate Imp Commander's ability. However, even with

Deadly, Imp is still a glass cannon, so the player should either use health boosting tricks like Camel Crossing or simply not expect Imp to stay alive for long.
Usually Mini-Ninja is a better option, as Mini-Ninja costs the same amount of brains, but is able to wear down the plant hero quicker with its

Anti-Hero trait.
Against
Any plant that can deal damage should be sufficient in dealing with Imp. When the Imp in question has Deadly, however, the player should be careful not to let expose their key plants to it. Although the imp can defeat any plant it hurts with Deadly, you can still overpower it with Armored or Shielded stats because it can not hurt it.
Gallery
Old
Trivia
Before the 1.2.11 update, this zombie was stronger than the regular Zombie which has lower strength and health than the Imp, while also having the same cost to summon.
His description is a direct reference to his Suburban Almanac entry in Plants vs. Zombies.
With the 1.2.11 update, Imp has become Sneaky's basic zombie card with 1/1 due to the disappearance of Zombie. His base statline of 2/2 is now inherited by Hot Dog Imp, though he costs 2 instead of 1, and he has the Strikethrough trait.