For other uses, see Imp (disambiguation).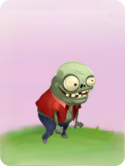 Imp

Imps are tiny zombies hurled by Gargantuars deep into your defenses.

Toughness
Low
First appears
Mildew Meadow Level 1
Cost of neighbor attack
200 coins
Training cost
25 coins
Training time
One minute



Imp is a zombie in Plants vs. Zombies Adventures. Just like in Plants vs. Zombies, Imp cannot appear by itself, but by other zombies; more specifically, Imposter Zombie and Gargantuar Zombie. For Imposter Zombie, when the coat is destroyed, two Imps jump out and start eating the plants on their own. For Gargantuar Zombie, an Imp will be thrown into the player's defenses when the Gargantuar Zombie's health is low enough.
Encounters
Gallery
Trivia
It has three fingers, but it does not have thumbs and footwear.
It and Conga Dancer are the only zombies that do not have an in-game description.