Iceberg Lettuce (Plants vs. Zombies Heroes)
Comment

1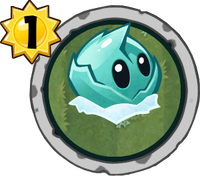 For the version in Plants vs. Zombies 2, see Iceberg Lettuce.
Iceberg Lettuce

Statistics
Strength
Health
Cost
-
-
1
Set
Premium
Rarity
Uncommon
Class
Tribe
Leafy Trick
Abilities
Freeze a Zombie.
"FREEZE! Ha, just kidding. Little Iceberg humor there."
Iceberg Lettuce is a premium uncommon plant trick card appearing in Plants vs. Zombies Heroes, and a member of the

Smarty tricks. It costs 1
to use. When played, the selected zombie will be

frozen, meaning that it will be unable to attack for a turn.
Statistics
Class: Smarty
Tribe: Leafy Trick
Abilities: Freeze a Zombie.
Set - Rarity: Premium - Uncommon
Card description
"FREEZE! Ha, just kidding. Little Iceberg humor there."
Version history
Version 1.2.11
Rarity change: Basic - Common to Premium - Uncommon
Strategies
Iceberg Lettuce can be used as a combination with Snowdrop to allow it to gain its strength and power. Good zombies to use this card on are Tennis Champs when played, as it will stop them from attacking with their boost of strength, where the boost will wear off after it has defrosted.
Winter Squash is a good plant to use with this trick, as the frozen zombie will be destroyed by the Winter Squash. This combination can be used to destroy really powerful zombies, like the Zombot 1000 and Wannabe Hero.
Frenzy zombies, such as Octo Zombie and Smashing Gargantuar, when frozen, give plant fighters a chance to damage or defeat those zombies without being attacked by them, entirely stopping the Frenzy ability, and to prevent a fighter from being destroyed as well as losing health from your plant hero.
Frozen Anti-Hero zombies, such as Mini-Ninja, especially when obtaining their Anti-Hero boost, entirely stop them attacking, giving you a chance for another turn to get a plant fighter to completely nullify the boost, as well as saving your plant hero's health.
This trick is also good against zombies with high strength or health, such as Zombot 1000, to stop them from dealing massive damage, as well as allowing your fighter to deal damage to destroy it, including last-resort situations.
Unfortunately, this trick is outclassed by Big Chill, as it can freeze a zombie as well as obtaining a card. However, due to the fact that only one of Big Chill can be put in a deck, you should try to have at least two Iceberg Lettuces in the deck as backup.
Gallery
Old
Trivia