For other uses, see Ice Pea (disambiguation).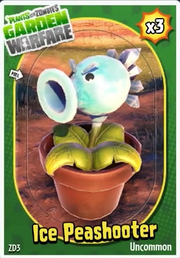 Ice Peashooter is a Spawnable Plant in Plants vs. Zombies: Garden Warfare. It was added in the Zomboss Down DLC update. Its weapon is Ice Pea Cannon which deals 15 impact damage and 18 critical damage and slows zombies down. After a certain amount of hits, it freezes the target in place, and the said target can't attack any plants or use its abilities.
Stickerbook description

He freezes Zombies in place, showing off how "cool" he is. Plants just roll their eyes.
Health
An Ice Peashooter has less than or equal to 42 health.
Strategies
This is a decent plant to use as it can freeze zombies quickly. It can even freeze Coffin Zombies, Barrel Pirates, and Outhouse Zombies because it shoots them in their weak spots. This is best planted near the garden to freeze zombies that get near.
Gallery
Trivia
Ad blocker interference detected!
Wikia is a free-to-use site that makes money from advertising. We have a modified experience for viewers using ad blockers

Wikia is not accessible if you've made further modifications. Remove the custom ad blocker rule(s) and the page will load as expected.