For the version in Plants vs. Zombies and Plants vs. Zombies 2, see Hypno-shroom.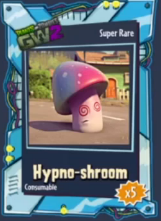 Hypno-shroom is a Super Rare Spawnable Plant in Plants vs. Zombies: Garden Warfare 2. Unlike in Plants vs. Zombies and its sequel, its purpose isn't to make a zombie fight on the plants' side. Instead, once spawned, it starts moving around while looking for playable zombies and if it spots one, it will latch on to it by attaching a beam to the targeted zombie. If a player is targeted by this beam, it will disrupt the player's vision and controls and deals a small amount of damage. The Hypno-shroom will continue to follow after the targeted player indefinitely until it is vanquished. Its attacks are named Hypno Leech, Hypno Shot and Hypno Pulse.
Stickerbook description
CLOSE RANGE: DISRUPTION
Get too close, and he'll make you lose your marbles!
Gallery
Trivia
Despite being a mushroom, it is treated as a Weed.
His attack looks similar to a Scientist's Goo Blaster.
He is the only Weed to be based on a plant from the original game.