Ad blocker interference detected!
Wikia is a free-to-use site that makes money from advertising. We have a modified experience for viewers using ad blockers

Wikia is not accessible if you've made further modifications. Remove the custom ad blocker rule(s) and the page will load as expected.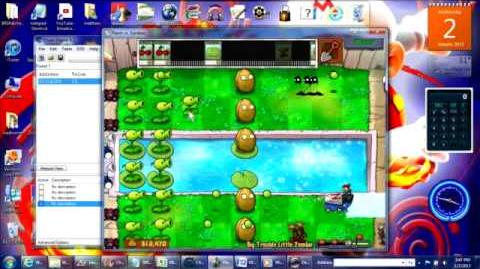 Hybrid mini-games are mini-games where halfway during the loading process, the mini-game ID is changed and the game loads two things: it initially loads the types of zombies, mini-game style, and the area, then after the ID is changed, it loads the amount of zombies, the effects of the mini-games and the new mini-game music. Often, this can lead to glitchy or unusual results. Some, such as ZomBotany Bowling, can be extremely easy, others, such as Zombie Nimble ZomBotany Quick, can be extremely difficult.
How to play them
Requirements:
Note: The mini-game ID stated below is just an example. You can use any other mini-game ID.
Procedure
Find the mini-game ID value using Cheat Engine.
Enter ZomBotany.
Scan for value "16."
Exit ZomBotany and enter Seeing Stars.
Scan for value "22."
Exit Seeing Stars and enter ZomBotany again.
Repeat until you have one address (that is the mini-game id; it will be different each time you open up the game, but once you open it up, it will never change).
Enter the initial mini-game described below.
Before the "choose your seeds" selection (if there is none, do it before it shows the zombies), change the mini-game ID to the new mini-game ID shown below.
Have fun!
Note: Hitting the "restart level" will restart the mini-game with the new mini-game ID and therefore, you will have to repeat steps 2 and 3 to play it.
ID table
List of hybrid mini-games
Note that anyone can add a mini-game to this list, just make sure it's possible.
Warning: You must not have Dr Zomboss's Revenge as your final mini-game or else the game itself will crash.
| Initial mini-game | Fused mini-game | New mini-game ID | Difficulty and details |
| --- | --- | --- | --- |
| ZomBotany | Zombie Nimble Zombie Quick | 29 | Hard |
| ZomBotany 2 | Zombie Nimble Zombie Quick | 29 | Extremely hard |
| ZomBotany 2 | Big Trouble Little Zombie | 25 | Easy |
| Bobsled Bonanza | Big Trouble Little Zombie | 25 | Very easy |
| ZomBotany | Portal Combat | 26 | Easy-medium |
| ZomBotany | Wall-nut Bowling | 17 | Extremely easy |
| Seeing Stars | Bobsled Bonaza | 28 | Extremely easy |
| ZomBotany | Art Challenge Wall-nut | 36 | Easy-medium |
| Seeing Stars | Grave Danger | 45 | Easy |
| ZomBotany | Column Like You See 'Em | 27 | Extremely easy |
| Seeing Stars | Bungee Blitz | 48 | Easy |
| Unsodded | Survival: Day (Hard) | 6 | Easy-medium |
| Portal Combat | Big Time | 39 | Medium-hard |
| Seeing Stars | High Gravity | 44 | N/A |
| Can You Dig It? | Column Like You See 'Em | 28 | N/A |
| Dr. Zomboss's Revenge | Squirrel | 49 | Easy |
| Last Stand | Invisi-ghoul | 21 | N/A |
| Grave Danger | Zombie Nimble Zombie Quick | 29 | N/A |
| Air Raid | Big Trouble Little Zombie | 25 | Hard |
| Bobsled Bonanza | Wall-nut Bowling 2 | 17 | Easy |
| Seeing Stars | Beghouled | 20 | Easy (Except for the fact that some plants are sleeping) |
| Air Raid | Dark Stormy Night | 47 | Hard |
| ZomBotany | Bungee Blitz | 48 | Hard |
| Adventure (New User; move save data also) | Survival: Day | 1 | Easy |
| Last Stand | Whack a Zombie | 30 | Hard |
| Dr. Zomboss's Revenge | Column Like You See Em' | 27 | Nearly impossible |
| ZomBotany | Whack a Zombie | 30 | Hard |
| ZomBotany 2 | Whack a Zombie | 30 | Nearly impossible |
| Last Stand | Column Like You See Em' | 27 | Medium |
| Me Smash! | I, Zombie Endless | 70 | Very easy |
| Dead Zeppelin | I, Zombie Endless | 70 | Very easy |
| Survival: Day or Survival: Day (Hard) | Vasebreaker Endless | 60 | Medium-hard |
| Portal Combat | Big Trouble Little Zombie | 25 | Easy-medium |
| ZomBotany 2 | Wall-nut Bowling 2 | 33 | Easy |
| Slot Machine | ZomBotany | 16 | Easy-hard (depending on luck) |
| Dr. Zomboss's Revenge | Pogo Party | 34 | Nearly impossible unless you cheat. In this case, medium. |
| Slot Machine | Column Like You See Em' | 27 | Medium |
| Dr. Zomboss's Revenge | Zombiquarium | 23 | Very easy |
| Dr. Zomboss's Revenge | Dark Stormy Night | 47 | Extremely hard |
| Survival: Roof | Air Raid | 23 | Nearly impossible |
| Dr. Zomboss's Revenge | Survival: Roof or Survival: Roof (Hard) | 23 | Extremely hard |
| Dr. Zomboss's Revenge | Invisi-ghoul | 21 | Nearly impossible |
| Dr. Zomboss's Revenge | Whack a Zombie | 30 | Medium |
| Dr. Zomboss's Revenge | Any Survival level | 1-15, depends on survival mode | Very easy, if you choose the right plants, impossible if not (excluding Jalapeno) |
| It's Raining Seeds | Column Like You See 'Em | 27 | Easy-very hard (depends on your luck) |
| Dr. Zomboss's Revenge | Unsodded | 38 | Extremely hard if correct plants, nearly impossible if not. |
| Dark Stormy Night | Wall Nut Bowling | 17 | Hard. Works similar to the normal Wall Nut Bowling, however Lily Pads cannot be obtained for the pool. The only way to kill aquatic zombies is via combos or Explode-O-Nuts. Due to the fog, it makes it difficult to see incoming zombies. |
| Wall Nut Bowling | Column Like You See 'Em | 27 | Extremely hard. Wall nuts become useless. Offensive plants are rare. |
| Column Like You See 'Em | Survival: Day | 1 | Hard/Extremely hard. The plant bar glitches out and only the last four plant packets can be used. If you pick wisely, you can win easily. Spawns large crowds of zombies. |
| Survival: Endless | Unsodded | 38 | Medium/Hard. Creates a unique front yard water level. Strangely, you can plant on the dirt tiles. |
| Survival: Day | Bobsled Bonaza | 28 | Medium. Creates a "playable ice level". Very easy if you use Jalapenos to remove the ice trails (however it defeats the purpose of the game). The ice trails are permanent and do not summon Bobsled Zombies. |
| Column Like You See 'Em | Can You Dig It? | 46 | Nearly Impossible. Similar to the regular "Can You Dig It?". In the beginning, you get a tall nut, magnet shroom, potato mine and other items. After a while, you will only get peashooters. |
| Grave Danger | Bungee Blitz | 48 | Medium. Similar to the regular Bungee Blitz, the only differences is that it is nighttime (obviously) and zombies will appear from graves on the final wave. |
| Grave Danger | Unsodded | 38 | Medium. Strangely, mushrooms can be planted without the use of the coffee bean despite it being daytime. The nighttime music also plays and graves are present. You can also plant on the dirt tiles. Overall, it plays exactly as that of a nighttime level. |
| Pogo Party | Big Time | 39 | Medium. Strangely, the wave starts off as normal instead of waiting a minute, making it harder than the normal Pogo Party. Luckily, you still have big plants to make things easier. |
Chomper Mania (Only Chompers and Flower Pots appear often. The rest come in rarely.) series:
Videos and gallery