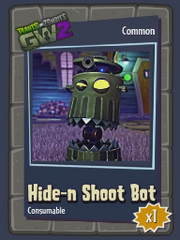 Hide-n-Shoot Bot is a bot in Plants vs. Zombies: Garden Warfare 2, which can be used in Graveyard Ops, Herbal Assault, and Backyard Battleground. It shoots plants at long distances, but hides when they are close, effectively making it the zombie counterpart of Scaredy-shroom. It hides by taking the form of a trash can. Its attack is named Splaser, which does 30 damage each shot.
Stickerbook description
LONG RANGE: PRECISION

The pride of Zomboss' trash can division.
Gallery
Trivia
Its name is a play on "hide-and-seek," a game where the player who has been tagged "it" must find where the other players are hiding.
Despite being robotic, this bot is not stunned for longer than usual by the Citron's EMPeach.