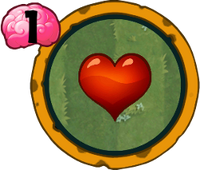 Heroic Health is a super-rare zombie superpower trick card in Plants vs. Zombies Heroes, and a member of the

Hearty class. It costs 1

to play, and its ability heals the zombie hero for up to 6

.
Statistics
Class: Hearty
Tribe: Superpower Trick
Ability: Heal your Hero for 6.
Rarity: Super-Rare
Card description
A healthy Hero is a happy Hero.
Update history
Update 1.2.12
Strategies
With
This card is extremely useful when the player has 14

or less, as this trick can be a big game changer. It is also useful because of its low brain cost. Try not to play this when your hero has lost less than 6

, since it will not be used to its full potential. If your hero has low health, it is recommended to save one brain (if this card is in your hand) to heal your hero to allow him to last longer. Remember that the game ends once a hero is defeated, and you don't want to be the defeated one.
Against
Although you cannot do anything to counter it, you can make sure that the total damage done to your opponent is more than 6. You can also play Black-Eyed Pea, Sportacus, or Brainana to either make your opponent reconsider their choice, or prevent them from playing it.
Gallery
Old
Trivia
Its description is most likely based on the Latin quote "mens sana in corpore sano," which means in English "a healthy body in a healthy mind."
Every time it pulses, the player can see more wires inside the heart, referencing the blood veins and capillaries inside a real human heart.
The icon in the statistics does not contain Band-Aids, unlike the card itself.