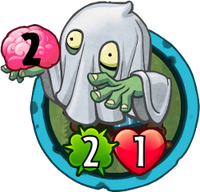 Haunting Zombie is a premium uncommon zombie card in Plants vs. Zombies Heroes, and a member of the

Beastly class. He costs 2

to play, and has 2

/1

. He does not have any traits, and his ability adds a Haunting Ghost into the zombie hero's hand when he is destroyed, unless the zombie hero has over 10 cards in their hand.
In the boss battle for the mission Haunting at Morbid Manor, Immorticia starts with three Haunting Zombies on the second, third, and fourth lanes.
Statistics
Class: Beastly
Tribe: Monster Zombie
Traits: None
Ability: When destroyed: Gain a Haunting Ghost.
Set - Rarity: Premium - Uncommon
Card description
He doesn't realize he would look even scarier without the spooky ghost costume...
Update history
Update 1.4.14
▲

Tribe change: Ghost → Monster
Update 1.16.10
Trait removed.
Ability added: When destroyed: Gain a Haunting Ghost. (Same effect as previous trait)
Update 1.22.10
Description change: Was originally Is he a zombie? Is he a ghost? He refuses to be pigeonholed.
Strategies
With
Because he can be played the second time once it is destroyed, you can play him on turn 2 or above to stall the plant hero and let him get destroyed. Other than that, this zombie is not in a tribe that benefits from other cards (other than being Conjured by Haunted Pumpking) and has low stats, so he becomes less useful in the late-game. He can also be hard to use early game as well, as he can likely take up an entire turn to use. Still, he can put pressure on the plant hero because he may easily come back when they destroy him. Decks that have few zombies can benefit with Haunting Zombie, as he can be replayed again. He is best used in Immorticia decks that focus on tricks, though he can also be used in The Smash decks that contain many expensive zombies, or Electric Boogaloo decks due to Electric Boogaloo's lack of ability to draw cards. Additionally, Electric Boogaloo also can boost Valkyrie's base strength twice with this zombie, rather than just once. Because you gain a card when this is destroyed, this can synergize well with Dino-Roar zombies.
Against
Mostly anything can destroy this due to his low health. Sour Grapes can destroy him with ease, especially if the returned Haunting Ghost is on the field. In plant missions, Immorticia will likely have lots of these on field from the start.
Plants with the Splash Damage trait such as Lightning Reed, or tricks like Berry Blast, Scorched Earth, or Water Balloons (but not Scorched Earth as it is a superpower) can easily deal with him, although you need to repeat the procedure to completely destroy him as it will be played again in the next few turns.
Gallery
Plants vs. Zombies Wiki
has a
gallery
for Haunting Zombie.
Trivia
Haunting Zombie is not a ghost; rather, he is just a zombie with a white sheet on top of him.

However, Haunting Ghost, gained from Haunting Zombie, is a real ghost.

His original description is a nod to Cattail's Almanac entry from Plants vs. Zombies, as "refuses to be pigeonholed" is also the last line in its entry.