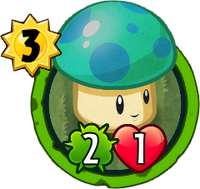 Grow-Shroom

Statistics
Strength
Health
Cost
2
1
3
Set
Basic
Rarity
Common
Class
Tribe
Mushroom Plant
Abilities
When played: Another Plant gets +2/+2.
She's always bringing out the best in others.
Grow-Shroom is a basic common plant card appearing in Plants vs. Zombies Heroes and a member of the

Mega-Grow plants. It costs 3
to play, and has 2
/1

when first played. Grow-Shroom's special effect gives a designated plant on the field (excluding itself) +2
/+2

upon being played. Its zombie counterpart is Loudmouth.
Origins
Grow-Shroom may be based on the Lactarius indigo, commonly known as the blue milk mushroom. Its name is a combination of "grow," referring to its special effect and "mushroom," referring to the fact that it is in the Mushroom Tribe.
Statistics
Class: Mega-Grow Plant
Tribe: Mushroom Plant
Abilities: When played: Another Plant gets +2/+2.
Set - Rarity: Basic - Common
Card description
She's always bringing out the best in others.
Strategies
With
This plant is pretty mediocre costing 3 sun while having 2 strength and 1 health. However, this can be used late game for some stat boosting to end the game earlier. Other than that, this plant can act as a shield to protect a plant if all else does not work.
Against
This plant only has 1 health. Thus, it should not be hard to destroy it. Do not bother using strong tricks against this plant, like Nibble. Pied Piper works well as when it is revealed, it will destroy the plant if its stats were not boosted. Conga Zombie can also deal 1 damage to this plant when revealed. Most importantly, do not bounce this plant, as the plant hero can plant it again and give another plant a stat boost.
Gallery
Old
Trivia
It is the first new mushroom the player obtains in the game.
It is a second female mushroom, the first being Toadstool and third being Button Mushroom.
It resembles a bigger Sun-shroom with a blue cap.
It is the only Mushroom Plant in the Mega-Grow class.
In Behind The Seeds trailer, its cap is yellow, making its appearance look exactly like Sun-shroom. This could mean that Grow-Shroom was originally going to be Sun-shroom, but being changed to its own mushroom.