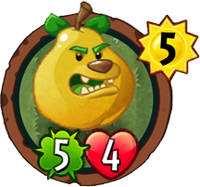 Grizzly Pear is a token plant card in Plants vs. Zombies Heroes, and a member of the

Guardian class. She is made by Pear Cub's ability, but can also be made by Cornucopia's ability, or transformed by Seedling or Petal-Morphosis' ability. She costs 5

to play (only when she is Bounced), and has 5

/4

. She has the Amphibious trait, and does not have any abilities.
Origins
She is based on a pear, the pomaceous fruit created by pear trees, and a grizzly bear, a large subspecies of the brown bear. Her name is a portmanteau of "grizzly bear"; and "pear," the fruit she is based on.
Statistics
Class: Guardian
Tribes: Fruit Animal Plant
Trait: Amphibious
Abilities: None
Rarity: Token
Card description
It's true what they say, "Never get between a Grizzly Pear and her cub." Doubly true for Zombies.
Update history
Update 1.10.14
Strategies
With
Grizzly Pear has slightly less than average stats for a 5

plant. However, remember that Grizzly Pear is made as soon as Pear Cub is destroyed, virtually costing 3

instead of 5. Since she has good stats, she can pose a big threat to any zombie in front of her. She can also pressure your opponent to not destroy Pear Cub. You can also move her onto the aquatic lane to threaten your opponent even more if their defenses there is lackluster.
Against
While Grizzly Pear is powerful, she is easy to be destroyed too. 

Brainy heroes have instant-kill tricks like Rocket Science and Cut Down to Size which are ideal against her. Cakesplosion and Locust Swarm are also good choices. You can also Bounce this to buy some time.
Since Grizzly Pear is made normally from Pear Cub's ability, a zombie with at least 4

/2

and the

Frenzy trait can destroy both Pear Cub and Grizzly Pear in one turn of combat. Boosted Vimpire can take more benefit from this, which will gain +4

/+4

from both Pear Cub and Grizzly Pear.
Gallery
Old
Trivia
She, Hibernating Beary, and Pear Cub are the only plants based on bears.

Coincidentally, all of them are in the Guardian class.

She is the most expensive token plant.
See also