Gotcha! is an achievement that can be obtained on the iOS and Android versions of Plants vs. Zombies. To get this achievement, the player must use the single Plantern in Ace of Vase or Vasebreaker Endless to reveal a vase with a Gargantuar inside.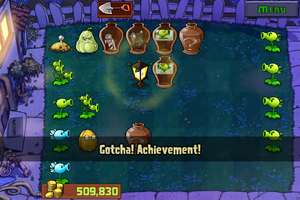 Strategies
It is mostly based on luck, but if you find a Plantern, use it in the center of eight vases, so there will be a higher chance of finding the Gargantuar. If you want to, you can restart if you do not find it. Doing this each time will increase the probability of getting Plantern.
Trivia
The Imp on the Gargantuar vase in the achievement's icon appears to be naked.
The Gargantuar vase on this achievement's icon is similar to the unused vase with a zombie face, or the purple vase that always contains a Vase Gargantuar from Plants vs. Zombies 2.
Legend
* means the achievement is PC-exclusive.
** means the achievement is handheld-exclusive.
*** means the achievement no longer exists.
Ad blocker interference detected!
Wikia is a free-to-use site that makes money from advertising. We have a modified experience for viewers using ad blockers

Wikia is not accessible if you've made further modifications. Remove the custom ad blocker rule(s) and the page will load as expected.