This article is under construction and requires more content. You can help our wiki by
expanding it
.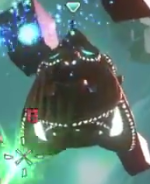 Gnome Floatie is a boss in Infinity Time mode in Plants vs. Zombies: Garden Warfare 2. It has high toughness and can destabilize time. It shoots blue projectiles similar to a Shooty Gnome. It has three faces which consists a happy face shooting green rings, a shocked face shooting blue homing energy balls and an angry face shooting quick red energy balls.
Appearances
A single Gnome Floatie may appear randomly at one of the four time circles during the first four levels in a color zone. The message "A Gnome Floatie has appeared" will let the player know this has happened. Once it gets above a time circle, the Floatie will begin to destabilize time slowly until it is destroyed. Gnome Floaties will not appear on these occasions:
First, second, and fourth levels.
During Nemesis Waves.
During fifth level in a quadrant (Gnome King).
Floatie Attack Wave
During the second or fourth level in a quadrant, Gnomus may send out a Floatie attack wave which sends out multiple Floaties at a time. When the player plays alone, only two of them will appear. The first Floatie will appear immediately and the second Floatie will appear after a while.
When playing with 2-4 players, three of them will appear. The first two Floaties will appear immediately, and the third Floatie appears after a while. These Floaties only destabilize time halfway before they leave, but since there are multiple of them, it is best to destroy them. A bonus 1000 coins will be awarded for beating an attack wave. This wave lasts until all of the Floaties leaves.
This article is a stub. Help us
expand it
, or the zombies will eat your brains!