Gnome (enemy) is a conjectural name for this article.
If you know the official name or have a better name or translation for it, please contact a wiki
administrator
to change it.
This article is under construction and requires more content. You can help our wiki by
expanding it
.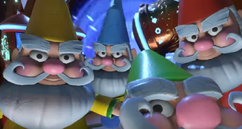 Gnomes are the basic enemy units that appear in Plants vs. Zombies: Garden Warfare 2 in the gamemode Infinity Time, as well as the Trials of Gnomus. They appear as stereotypical garden gnomes and come in 5 colors, red, green, blue, yellow and multi-colored. Gnomes drop Time Shards when defeated in Infinity Time that restore up to 50 health upon being collected.
Variants
Gallery
Trivia
The Standard Gnome appears the most in Infinity Time out of any Gnome (excluding waves 2, 4, and Nemesis Waves).
The Gnomes have very stiff movement. They move forward by sliding and jumping and jump in order to successfully hit lower angles due to their apparent inability to bend down (or bend at all).
The Shooty Gnomes that spawn in the Trials of Gnomus main area reward 50 XP for having "Vanquished Gnome Hero", similar to the XP given for vanquishing Plant and Zombie Heroes (AI versions of the playable classes). This message is seen no where else in game.

This article is a stub. Help us
expand it
, or the zombies will eat your brains!