Gnome (enemy) is a conjectural name for this article.
If you know the official name or have a better name or translation for it, please contact a wiki
administrator
to change it.

This article is under construction and requires more content. You can help our wiki by
expanding it
.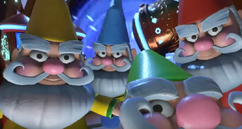 Gnomes are the basic enemy unit in the gamemode Infinity Time, and Trials of Gnomus. They come in 4 colors which consists red, green, blue, and yellow.
Variants
Standard Gnomes - attack the player by rushing up to them and smashing them with their hammers.
Shieldy Gnomes - become standard Gnomes once their shield is destroyed. They throw explosive apples as their long-range weapon.
Shooty Gnome
Explody Gnome
Trivia
The standard Gnome appears the most in Infinity Time out of any Gnome (excluding waves 2, 4, and Nemesis Waves).
This article is a stub. Help us
expand it
, or the zombies will eat your brains!
Ad blocker interference detected!
Wikia is a free-to-use site that makes money from advertising. We have a modified experience for viewers using ad blockers

Wikia is not accessible if you've made further modifications. Remove the custom ad blocker rule(s) and the page will load as expected.