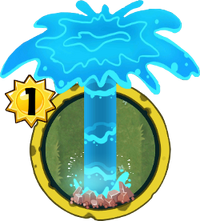 Geyser

Statistics
Strength
Health
Cost
-
-
1
Rarity
Super-Rare
Class
Tribe
Superpower Trick
Abilities
Heal your Hero and all Plants for 4.
H2Oh no you didn't!
Geyser is a super-rare plant superpower trick card in Plants vs. Zombies Heroes, and a member of the

Solar class. It costs 1

to play, and its ability heals the plant hero and all plants on the field for 4

if they are hurt.
Origins
It is based on a geyser, a spring characterized by intermittent discharge of water ejected turbulently and accompanied by steam.
Statistics
Class: Solar
Tribe: Superpower Trick
Ability: Heal your Hero and all Plants for 4.
Rarity: Super-Rare
Card description
H2Oh no you didn't!
Update history
Update 1.2.11
Strategies
With
The two heroes that are given this superpower, Wall-Knight and Chompzilla, can use this trick more effectively than any other Solar hero; Wall-Knight with his access to Guardian plants that tend to have high base health, and Chompzilla with her stat-boosting tactics that simply increase her plants' health. Pepper M.D. synergizes exceptionally well with Geyser, since it is able to heal a large number of targets at once, but only on the hero or damaged plants.
Due to this affecting not only you, but all your plants as well, this superpower gets more effective when there are a lot of plants (preferably ones that are hurt) on the field. Otherwise, this is just a cheaper version of 2nd-Best Taco of All Time, but without the player getting to draw a card.
Against
This superpower can potentially be very threatening, being able to heal everything at a very cheap price. There is no choice but to overwhelm the opponent with sheer damage.
Also, you basically want to avoid the situation where your opponent has a Pepper M.D. and many damaged plants in the field, and plays this trick. Quickly destroy any Pepper M.D. that come out.
Gallery
Old
Trivia
Its description is a portmanteau of H2O, the chemical formula for water, and the phrase "Oh no you didn't!"