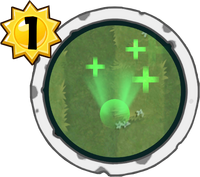 Get Well is an unused zombie superpower trick card appearing in Plants vs. Zombies Heroes, and was a member of the zombie superpowers. It costed 1

to play. As a neutral superpower, It could used by any hero. When played, it can heal a designated zombie or the hero for 2

. Its plant counterpart is Rejuvenate.
Get Well, alongside the other neutral superpowers, was scrapped in 1.2.11 update as superpowers became bounded to heroes.
Origins
Get Well is based on an imagery of healing, similarly to its plant counterpart, Rejuvenate. Its name is a reference to the phrase "get well soon," a phrase expressing hope that the listener will soon recover from physical illness.
Statistics
Class: Neutral
Tribe: Superpower Trick
Ability: Heal 2.
Rarity: Common
Card description
Helps with the boo-boos.
Update history
Update 1.2.11
Strategies
With
This trick can be used on either the zombie hero or zombies. Because of this, if the zombie hero has low health, the player can use this trick to heal the hero. However, if the zombie hero has more than 10 health, this trick should be used to heal zombies.
Gallery
Trivia
Its in-game design was green, but its card was purple.
See also