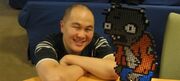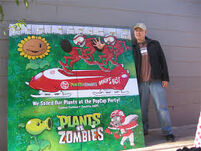 George Fan is the main designer of Plants vs. Zombies and the creator of the Plants vs. Zombies series. He joined PopCap in 2004. Fan is the lyric writer of "Zombies on Your Lawn," while Laura Shigihara sang and composed it. He was laid off from PopCap Games in September 2012 after Electronic Arts purchased PopCap. He was also the designer of Insaniquarium.
This article is a stub. Help us
expand it
, or the zombies will eat your brains!