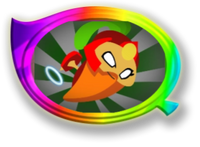 Genetic Amplification is Beta-Carrotina's premium legendary plant signature superpower trick card in Plants vs. Zombies Heroes, and a member of the

Guardian and

Smarty classes. It costs 1

to play, and its abilities Conjure a random plant that costs 2

, and give it +1

/+1

and the Amphibious and Team-Up traits.
Statistics
Classes: Guardian, Smarty
Tribes: Root Superpower Trick
Abilities: Conjure a 2-cost Plant. It gets +1/+1, Amphibious, and Team-Up.
Set - Rarity: Premium - Legendary
Card description
The modifications are controversial, sure. But the results are hard to argue with.
Update history
Update 1.16.10
Strategies
With
This superpower is undoubtedly very powerful to play. It allows you to Conjure a random plant that cost 2

as well as giving it +1

/+1

, Amphibious, and Team-Up, making it a powerful Amphibious plant to play in the early to mid-game. Examples of such plants are Jugger-Nut, Wild Berry, Fire Peashooter, Twin Sunflower and Sun-Shroom. In addition, playing it on turn 1 makes an excellent tempo play, since you can curve out perfectly with a boosted 2-cost plant. The best plant out of all 2-cost plants Conjured by this trick is Doubled Mint as he has the benefit to safely double his stats by being played on the aquatic lane behind an Amphibious plant thanks to his Amphibious and Team-Up traits. However, beware of damaging or destroying tricks like Cut Down to Size, Rocket Science, or Locust Swarm, as they can target and destroy him even with his new traits.
While you may Conjure a plant that already has either of the aforementioned traits such as Sea-Shroom or Cosmic Bean, or both like Water Chestnut, Pear Pal, or Laser Cattail, that plant will at least get a +1

/+1

boost.
For easy reference, here is a list of all current 2

cards that this can Conjure:
Water Chestnut
Jugger-Nut
Wild Berry
Pear Pal
Fire Peashooter

Doubled Mint
Cosmic Bean
Laser Cattail
Twin Sunflower
Sun-Shroom
Against
Be prepared for any plant Conjured, as it will be slightly more powerful, can be played in the aquatic lane, and has the Team-Up trait. However, if you Bounce that plant, it will lose all its boosts, making it sightly easier to deal with.
You would also want to bring instant-kill or heavy damage cards if Bouncing is not an option. Fortunately, every class has at least one card that can do the job.
Gallery
Trivia
The flavor text refers to the real-world controversy surrounding genetic engineering, particularly GMOs.
The card's background is identical to Precision Blast's.
See also