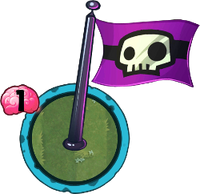 Galvanize is a super-rare zombie superpower trick card in Plants vs. Zombies Heroes, and a member of the

Beastly class. It costs 1

to play, and its ability gives a selected zombie +2

/+2

. Its plant counterpart is Embiggen.
Origins
Its name is derived from the word "galvanize," the execution of a process where a protective coat of zinc is applied to iron or steel to prevent rusting.
This is a reference to Galvanize's ability to give zombies extra strength and health. Alternatively, the word "galvanize" can also mean to motivate someone to take action via shock or excitement (which could explain its card description).
Its description is a reference to the motto "To Protect and to Serve," which has been used by the Los Angeles Police Department since 1955.
Statistics
Class: Beastly
Tribe: Superpower Trick
Ability: A Zombie gets +2/+2.
Rarity: Super-Rare
Card description
To protect and serve... brains.
Update history
Update 1.2.12
Strategies
With
There are multiple ways one can use this trick. It can be used to turn a harmless zombie like a Skunk Punk into a moderate threat, it could also be used to ensure the survival of a useful zombie, like Zookeeper, and finally, it can be used to turn big threats like Smashing Gargantuar or Vimpire into even bigger threats.
Against
You can Bounce the zombie to return its status back to normal, neutralizing the trick. However, you must wait until the turn after this trick is played to Bounce the boosted zombie.
Gallery
Old
Trivia
This can be considered the opposite of Weed Whack, since Weed Whack gives a zombie -2/-2, while Galvanize gives a zombie +2/+2.
Its fireworks animation is very similar to Immorticia's animation (with fireworks) when she does 4 or more damage to the plant hero or plays a legendary zombie.
See also