This subject currently has no proper strategy associated with it. If you have figured out a good strategy, please
add it
or the zombies will eat your brains!
For the Chinese version of the level, see Frostbite Caves - Day 4 (Chinese version).
For the Chinese version of this level before the v1.8 update, see Frostbite Caves - Day 4 (Chinese version: pre-1.8).
Frostbite Caves - Day 4 is the fourth level of Frostbite Caves in Plants vs. Zombies 2. The Hunter Zombie makes his first appearance here. In addition, there are two ice floes, with one being on the fifth column and fifth lane pointing up and the other being on the seventh column and fourth lane, pointing down. When this level is finished for the first time, the player gets a Frostbite Caves pinata.
Difficulty
The Hunter Zombie is introduced in this level. He will throw snowballs at plants to freeze them. Hot Potato should be used to counter this, especially if the player does not have a thawing plant. However, he is not the primary threat. The real threat is the numerous amounts of zombies, and how spread out they spawn. Tons of Cave Zombies appear in this level, and when combined with the Hunter Zombie's speed, he can freeze plants carefree. Bringing along Cherry Bomb can really help in this level, as it can take out huge crowds of zombies that most plants at this point could get overwhelmed with.
Waves
The small number next to the zombie icon means that zombie will always appear in that lane, with 1 being the topmost lane and 5 being the bottommost one.
| Waves | Non-dynamic zombies | Ambush zombies | Note(s) |
| --- | --- | --- | --- |
| 1 | 3 5 | None | |
| 2 | 1 2 4 | None | |
| 3 | 2 3 5 | None | 400%/7 Plant Food |
| 4 | 1 2 4 5 | None | 600%/7 Plant Food |
| 5 | 3 5 2 | None | |
| 6 | 1 5 3 | None | |
| 7 | 1 2 5 3 4 3 | None | First flag |
| 8 | 2 4 5 1 2 | None | |
| 9 | 1 4 5 2 | None | 100% Plant Food |
| 10 | 1 3 5 2 2 | None | |
| 11 | 1 3 1 3 4 | None | |
| 12 | 1 3 5 1 1 5 | None | 500%/7 Plant Food |
| 13 | 2 3 4 | None | |
| 14 | 1 5 2 3 4 2 3 4 | None | Final flag |
Gallery
Walkthrough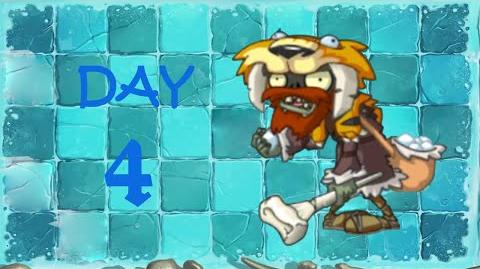 *: Removed