This subject currently has no proper strategy associated with it. If you have figured out a good strategy, please
add it
or the zombies will eat your brains!
Frostbite Caves - Day 26 is the twenty-sixth level of Frostbite Caves in Plants vs. Zombies 2. When this level is finished for the first time, the player unlocks Rotobaga.
Difficulty
Rotobaga is meant to be the central plant for the level. However, it proves to be slightly unpractical due to the ice floes reducing the amount of possible firepower coming from it. However, the player should not be discouraged from experimenting with it. Players can also use the ice floes to their advantage.
Freezing winds are obtrusive and thawing plants are a necessity. Nevertheless, Hot Potato should be picked anyway due to its ability to quickly free plants that would otherwise block projectiles. Additionally, Hot Potato is one of the best counters for Troglobites.
Weasel Hoarders seem to be the biggest threat in the level. The limited space caused by ice floes and tiles for thawing plants makes Lightning Reed ineffective against Ice Weasels. The best choice is Laser Bean or Fume-shroom. When a Laser Bean is planted in the first column, it itself is enough to protect the player during the whole level. Additionally, it saves space and is protected by the distance of the tiles it is planted on.
Waves
The small number next to the zombie icon means that zombie will always appear in that lane, with 1 being the topmost lane and 5 being the bottommost one.
| Waves | Non-dynamic zombies | Ambush zombies | Note(s) |
| --- | --- | --- | --- |
| 1 | 1 | None | Freezing winds affect rows 1 and 2 |
| 2 | 1 2 5 | None | 400%/7 Plant Food |
| 3 | 1 2 5 | | First flag; freezing winds affect rows 1, 2, and 3; Snowstorm! |
| 4 | 1 2 5 1 | None | 600%/7 Plant Food |
| 5 | 2 4 1 1 | None | Freezing winds affect rows 1, 2, 4, and 5 |
| 6 | 1 1 1 2 4 5 | None | Second flag |
| 7 | 1 2 1 5 | None | Freezing winds affect rows 1, 2, and 3; 100% Plant Food |
| 8 | 1 1 1 2 | None | |
| 9 | 1 1 4 1 2 4 5 | None | Third flag; freezing winds affect rows 1 and 2; 100% Plant Food |
| 10 | 1 1 2 5 | None | |
| 11 | 1 1 2 1 | None | Freezing winds affect rows 1, 2, 4, and 5; 500%/7 Plant Food |
| 12 | 1 2 4 1 2 5 | | Final flag; Snowstorm! |
Gallery
Walkthrough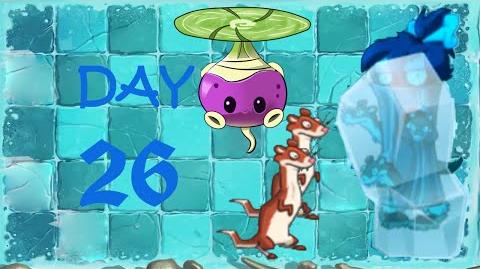 *: Removed