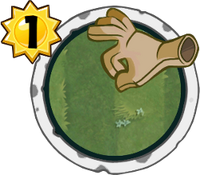 Not to be confused with Power Toss from Plants vs. Zombies 2.
Flick-a-Zombie

Statistics
Strength
Health
Cost
-
-
1
Rarity
Common
Tribe
Superpower Trick
Abilities
Do 1 damage.
Bad Zombie! BAD Zombie!
Flick-a-Zombie is an unused undroppable common plant superpower trick card in Plants vs. Zombies Heroes, and isn't a member of any class. It costs 1

to play, and its ability does 1 damage to a selected zombie or the zombie hero. Its zombie counterpart is Flick-a-Plant.
Flick-a-Zombie, along with the other neutral superpowers, got scrapped in update 1.2.11, as superpowers became bounded to heroes.
Origins
It is based on a brown gardening glove.
Just like Whack-a-Zombie, or its zombie counterpart, Flick-a-Plant, its name may be a reference to an arcade game where a player must need a hitting medium to hit something couple of times in order to win.
Statistics
Class: Neutral
Tribe: Superpower Trick
Ability: Do 1 damage.
Rarity: Common
Card description
Bad Zombie! BAD Zombie!
Update history
Update 1.2.11
Strategies
With
This trick can be used anytime. It can be used early on in the game to destroy early weaker zombies like Tennis Champ, Cuckoo Zombie, and Unlife of the Party. Saving this for late game as a last-ditch resort could do if your opponent has 1 health left.
Against
This trick is very weak, so it loses its power quickly in the mid-to-late-game. You shouldn't be affected too much, unless you are in a terrible situation.
Gallery
Trivia
Its description alludes to a saying when a pet (e.g. dog) does something that an owner does not want to do.
It looks similar to the Power Toss from Plants vs. Zombies 2, except that Power Toss throws zombies off-screen while this trick damages zombies.
Grave Mistake reuses its card design.
See also