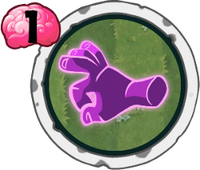 Flick-a-Plant was an unused zombie superpower trick card in Plants vs. Zombies Heroes, and wasn't a member of any class. It costed 1

to play, and its ability did 1 damage to a selected plant or the plant hero. Its plant counterpart was Flick-a-Zombie.
Flick-a-Plant, along with the other neutral superpowers, got scrapped in update 1.2.11, as superpowers became bounded to heroes.
Origins
It is based on a zombie's hand.
Just like Whack-a-Zombie, or its plant counterpart, Flick-a-Zombie, its name may be a reference to an arcade game where a player must need a hitting medium to hit something a couple of times in order to win.
Its description is a reference to the "wrist-flick attack" to the Heids Knight Sword in the game Dark Souls II, where it is sometimes referred as "annoying yet effective."
Statistics
Class: None
Tribe: Superpower Trick
Ability: Do 1 damage.
Rarity: Common
Card description
Annoying AND effective!
Update history
Update 1.2.11
Strategies
With
Flick-a-Plant should be mostly used on the early-mid game, such as destroying a set-up plant like Pea Pod or a miscellaneous plant like Seedling. If this is saved up until late-game, you can use this as an extra damage dealer to the plant hero.
Gallery
Trivia
Its card image and textures were later reused as Knockout's.
See also