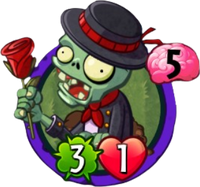 Flamenco Zombie

Statistics
Strength
Health
Cost
3
2
5
Set
Basic
Rarity
Common
Class
Tribe
Dancing Zombie
Abilities
When played: Do 2 damage to the Plant Hero for each Dancing Zombie.
Also enjoys dancing the rumba, tango, and the Hokey Pokey.
Flamenco Zombie is a basic common zombie card in Plants vs. Zombies Heroes, and a member of the

Crazy class. he costs 5

to play, and has 3
/2

. He has no traits, and his ability does 2 damage to the plant hero for every dancing zombie on the field when he is played, including him.
Origins
This zombie is based on Flamenco, an art form known to the Spanish regions. It includes dancing, singing, guitar playing, etc.
Statistics
Class: Crazy
Tribe: Dancing Zombie
Traits: None
Ability: When played: Do 2 damage to the Plant Hero for each Dancing Zombie.
Set - Rarity: Basic - Common
Card description
Also enjoys dancing the rumba, tango, and the Hokey Pokey.
Update history
Update 1.2.11
Rarity change: Basic - Uncommon → Basic - Common
Strategies
With
This zombie alone is a bit poor for his brain cost. If the player wants to get the most out of using this zombie, the player should have at least one dancing zombie on the field. However, this zombie is a dancing zombie too, meaning that he can still activate his ability by himself. Use him after using Disco-Tron 3000 to deal up to 8 damage to the plant hero, as Disco-Tron 3000 will make 2 more dancing zombies. Although, it is technically possible to deal 10 damage at once with Flamenco Zombie. However, only Impfinity (and Professor Brainstorm with Eureka) can pull it off. This involves moving a dancing zombie other than Line Dancing Zombie to the pool lane with Mixed-Up Gravedigger, and having Mixed-Up Gravedigger die so Flamenco Zombie can be used.
It is best avoided to play this zombie when your opponent is 3-1 bars from a block. This makes it a risky move, as you could play Flamenco Zombie to activate the block and do nothing with it.
Against
The zombie himself is pretty easy to destroy, but there's nothing you can do about his bonus attacks except count on luck and block him. Just be aware and try to avoid keeping dancing zombies alive.
The first thing you need to be aware is when your opponent summons dancing zombies and Backup Dancers. Try to kill most of the dancing zombies so the Flamenco Zombie won't deal too much damage.
Gallery
Old
Trivia
If the player listens very closely, they can hear "sí" when he attacks, which in Spanish means "yes."
Ad blocker interference detected!
Wikia is a free-to-use site that makes money from advertising. We have a modified experience for viewers using ad blockers

Wikia is not accessible if you've made further modifications. Remove the custom ad blocker rule(s) and the page will load as expected.