This article is under construction and requires more content. You can help our wiki by
expanding it
.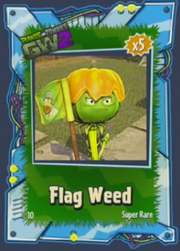 Flag Weed is a Spawnable Plant and a Weed variant in Plants vs. Zombies: Garden Warfare 2. ​It has the same health as a Pumpkin Weed, but carries a green flag with Crazy Dave's face on it. It searches for plants and follows them, giving the nearby plants a defensive boost. It is the plant counterpart of the Flag Zombie, but gives nearby plants a defense boost instead of a speed boost.
​Stickerbook description
​The Flag Weed rallies nearby Plants, and provides them with a defensive morale boost.
Gallery
Trivia
There is an error with its card and its icon. The card and icon shows the Flag Weed with a pumpkin hat similar to the one worn by Pumpkin Weed, but it actually has a terracotta hat, similar to the Terracotta Weed.
It has an idle animation where it shakes its left hand before stomping its right roots on the ground.

This is shared with the Heal Weed.
This article is a stub. Help us
expand it
, or the zombies will eat your brains!