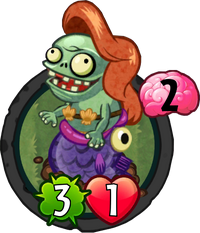 For the similar zombie in Plants vs. Zombies 2, see Imp Mermaid Zombie.
Fishy Imp

Statistics
Strength
Health
Cost
3
1
2
Set
Basic
Rarity
Common
Class
Tribe
Imp Pet Zombie
Traits
Amphibious
Throws the *best* pool parties.
Fishy Imp is a basic common zombie card in Plants vs. Zombies Heroes, and a member of the
Sneaky class. She costs 2

to play, and has 3
/1

. She has the Amphibious trait, and does not have any abilities.
Statistics
Class: Sneaky
Tribes: Imp Pet Zombie
Trait: Amphibious
Abilities: None
Set - Rarity: Basic - Common
Card description
Throws the *best* pool parties.
Strategies
With
This zombie has a similar nature to Fire Peashooter, in that it has 1 more strength than its cost, but low health. However, due to her Amphibious trait, her high strength, and her low health, Fishy Imp will almost always be played in an aquatic lane to strike the plant hero a few times. However, a Sting Bean or Admiral Navy Bean can stop her dead in her tracks, at the cost of the plant itself. Water Chestnut cannot hurt her, but can take 3 hits from Fishy Imp.
When playing as Neptuna, using Camel Crossing can extend the amount of time Fishy Imp can live. Rolling Stone can be used to protect Fishy Imp early on from plants such as Admiral Navy Bean. In addition, giving

Frenzy through means of Coffee Zombie or Maniacal Laugh can make her a formidable threat because of her high strength stats. Fishy Imp can also apply pressure using Zookeeper and Cat Lady, as she has the Pet tribe, along with Toxic Waste Imp and Imp Commander, as she has the Imp tribe.
Against
Fishy Imp can easily be destroyed because of her low

. Every class has good chances of defeating this zombie.

Smarty and

Guardian have a good amount of Amphibious plants, which can be used against Fishy Imp,

Solar and

Kabloom have many damaging and killing tricks such as Berry Blast and Squash, and

Mega-Grow can move Amphibious zombies with Sweet Potato and Whipvine. Additionally, every hero will have another class, which provides more options to effectively take Fishy Imp out.
However, do not underestimate Fishy Imp, as she can do a lot of damage if you are not prepared.
Gallery
Old
Trivia
Her appearance is based on the Imp Mermaid Zombie.
Her description references the fact that she has the Amphibious trait.
Ad blocker interference detected!
Wikia is a free-to-use site that makes money from advertising. We have a modified experience for viewers using ad blockers

Wikia is not accessible if you've made further modifications. Remove the custom ad blocker rule(s) and the page will load as expected.