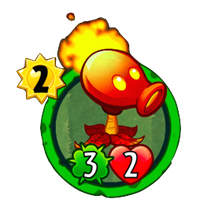 For other uses, see Fire Pea (disambiguation).
Fire Peashooter

Statistics
Strength
Health
Cost
3
2
2
Set
Basic
Rarity
Common
Class
Tribe
Pea Plant
"Is it getting hot in here or is it just me?"
Fire Peashooter is a basic common plant card appearing in Plants vs. Zombies Heroes and a member of the

Mega-Grow plants. It costs 2
to plant and has 3
/2

.
Origins
Fire Peashooter is based on the Pisum sativum, more commonly as the pea. Its name is a combination of "fire" and the plant its based on, Peashooter.
Statistics
Class: Mega-Grow
Tribe: Pea Plant
Set - Rarity: Basic - Common
Card description
"Is it getting hot in here or is it just me?"
Strategies
With
Fire Peashooter is a fairly basic plant as far as 2-cost fighters go, due to its relatively decent stats and lack of innate ability. However, it does have a good strength stat for a 2 sun cost plant. In addition, its Pea tribe means that Fire Peashooter can benefit greatly from Torchwood, as it can gain both offensive and defensive benefits by standing behind the plant in question. Otherwise, Fire Peashooter should be treated as a glass cannon, as opposed to more durable plants such as Pismashio.
Against
As Fire Peashooter has a relatively low amount of health, anything that could deal at least 2 damage should be able to take it down with little cost. A Fire Peashooter/Torchwood combo, however, is a different story, and the player should consider either using Deadly zombies, instant-kill trick, damage tricks (such as Bungee Plumber or The Chickening), or plant moving effects to destroy it. If Fire Peashooter is boosted in any way, consider using Rocket Science.
Gallery
Old