This is the gallery for the Fire Peashooter.
Old
Old
"Working with an open flame is serious and,
more importantly, dangerous business."
This is a section regarding leaked content.
None of this has been officially released.
Click Show or Hide at the right side of the section to show or hide the content.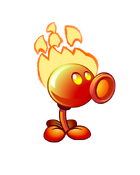 Ad blocker interference detected!
Wikia is a free-to-use site that makes money from advertising. We have a modified experience for viewers using ad blockers

Wikia is not accessible if you've made further modifications. Remove the custom ad blocker rule(s) and the page will load as expected.