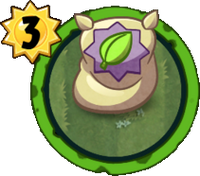 Not to be confused with Fertilizer, an item from Plants vs. Zombies.
Fertilize is a basic common plant trick card in Plants vs. Zombies Heroes, and a member of the

Mega-Grow class. It costs 3

to play, and its ability gives a selected plant +3

/+3

. Its zombie counterpart is Vitamin Z.
Origins
It is based on fertilizer, any material of natural or synthetic origin that is applied to soil to supply plant nutrients essential for the growth of plants.
Its name is based on the real meaning of fertilize, which is to make something fertile.
Statistics
Class: Mega-Grow
Tribe: Trick
Ability: A Plant gets +3/+3.
Set - Rarity: Basic - Common
Card description
Stinky, sure, but powerful stuff. Ask any Plant.
Strategies
With
Like Vitamin Z, Fertilize can be used early-mid game as a boost for plants like Skyshooter. It can also be used late game for a better boost to an already strong plant. Giving it to plants like Repeater or Bananasaurus Rex is even more beneficial, as they attack at least twice per turn. Since this is a trick, using it on Re-Peat Moss will make the plant attack again with very high strength given from the Fertilize, so this is also a great tactic if you want to clear out a big zombie or deal lots of damage to the opposite hero. Try using this trick to boost up plants like Threepeater, as it will deal 4 damage in three lanes and up to 12 damage to the zombie hero. However, be wary if your opponent is a Brainy hero and has left at least 3 brains, as they may be planning of playing Rocket Science to destroy the boosted plant.
Against
Fertilize can be quite dangerous since it can turn a seemingly harmless plant into a threat, and potential threat into a dangerous fighter that can change the whole game. Therefore, destroying plants boosted with it should be the top priority. You can either use Locust Swarm, Rocket Science, or the
Deadly trait to do this. However, Bouncing the plant is also a good solution, because it would make your opponent waste the Fertilize boost and some sun.
Gallery
Old
Trivia
Its description alludes to how fertilizer is usually made out of manure of animals.
The bag has the Plant Food symbol on it.
See also