This article is under construction and requires more content. You can help our wiki by
expanding it
.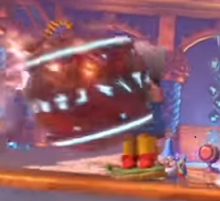 Explody Gnome is a type of Gnome and an enemy in Infinity Time and Trials of Gnomus in Plants vs. Zombies: Garden Warfare 2. Explody Gnomes carry a bomb as they walk, and will explode on contact with the player, making them the Gnome equivalent of the Exploding Imp and the Dandelion Weed.
Explody Gnomes attack by rushing up to the player. When they get to their target, their bomb will glow briefly before exploding, doing a lot of damage. Although they can be dangerous in numbers, they have less health than the average Gnome, making them easier to vanquish.
The Brothers Gnomus
Explody Gnomes appear with all the other gnomes in the gnomus brothers Boss Hunt, and champion explody gnomes can exist as well. Unlike regulars, these will curse the player when they explode, slowing them down and preventing them from using specials.
Trivia
Even when it explodes, it still releases a time shard in Infinity Time.
It is possible to nullify the effect of an Explody Gnome by doing a well-timed charge or ground pound.
This article is a stub. Help us
expand it
, or the zombies will eat your brains!
Ad blocker interference detected!
Wikia is a free-to-use site that makes money from advertising. We have a modified experience for viewers using ad blockers

Wikia is not accessible if you've made further modifications. Remove the custom ad blocker rule(s) and the page will load as expected.