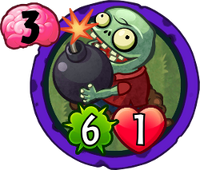 For other versions, see Imp (disambiguation).
Exploding Imp is a premium rare zombie card in Plants vs. Zombies Heroes, and a member of the

Crazy class. He costs 3

to play, and has 6

/1

. He has the Gravestone trait, and his ability does 1 damage to him at the end of every turn, starting from the turn he is revealed.
Origins
He may be based on the spawnable zombie with the same name and similar appearance in Plants vs. Zombies: Garden Warfare and Plants vs. Zombies: Garden Warfare 2. However, instead of rolling on a bomb, he throws it instead.
The word "Implosives" in his description is a portmanteau of "Imp" and "explosives."
Statistics
Class: Crazy
Tribe: Imp Zombie
Trait: Gravestone
Ability: End of Turn: This does 1 damage to itself.
Set - Rarity: Premium - Rare
Card description
You could say he's an IMPlosives expert.
Update history
Update 1.2.11
Set - Rarity change: Basic - Common → Premium - Uncommon
Update 1.16.10
Rarity change: Uncommon → Rare
Strategies
With
Statwise, this zombie is a glass cannon. He is one-use, as he will destroy himself regardless of whether or not he survived the turn he is revealed. And because of that, you would want to use this to destroy or heavily damage something with a lot of health, like Soul Patch, Super-Phat Beets, or simply do heavy damage to the plant hero.
Since he has low health, he synergizes well with Valkyrie, as he will most likely destroy himself at the end of the turn.
Since Jester costs 3

as well, he can be swapped with Exploding Imp, where your opponent plays something weak in an attempt to block Exploding Imp, only to find out it is Jester.
Each hero can use Exploding Imp effectively with their other class:
Z-Mech can boost his health with cards such as Rock Wall, Camel Crossing, Monster Mash, Coffee Zombie, and Going Viral. Should Coffee Zombie or Going Viral be used, Exploding Imp will also have Frenzy, which will allow him to damage multiple plants and the plant hero should his health be high enough. Z-Mech can also use Zombot Battlecruiser 5000 or Escape through Time to prevent Exploding Imp from damaging himself for the turn. Z-Mech can also use cards like Terrify and Sumo Wrestler to move plants out of Exploding Imp's way.
Electric Boogaloo can also boost Exploding Imp's stats with cards such as Loudmouth and Vitamin Z to allow Exploding Imp to take more damage and to inflict more damage back, or Maniacal Laugh for a nasty game-ending potential. Electric Boogaloo can also use instant-kill cards like Locust Swarm and B-flat to destroy plants blocking Exploding Imp's way.
Impfinity can use Headstone Carver to slightly boost Exploding Imp's stats, allowing him to survive another turn. Impfinity could either Bounce plants blocking Exploding Imp's way with Backyard Bounce or Pogo Bouncer, move him with Smoke Bomb, or use Exploding Imp in his Imp decks with Imp Commander to draw a card if he hits the plant hero or Toxic Waste Imp to allow Exploding Imp to destroy anything that can survive 6 damage. However, if you use Toxic Waste Imp with Exploding Imp, take note that Exploding Imp destroys himself regardless of his health since Deadly also affects himself.
Professor Brainstorm can use cards such as Lurch for Lunch and Electrician to either destroy any plant blocking his way or to deal bonus attack on the plant hero.
Note that if you are using Zombot Battlecruiser 5000 or Electrician on the same turn as Exploding Imp, they must be played to the right of him, since gravestones are revealed from left to right.
Since he is a gravestone zombie himself, unless the plant hero has Grave Buster, Cool Bean or Blockbuster, they must sacrifice a plant to avoid the 6 damage.
Against
This zombie can do a lot of damage and is mostly used to attack the hero, so watch out for him in the third turn or above and try to defeat or block this zombie. If this zombie is boosted, he becomes a bigger threat, due to him being able to attack multiple times without killing himself, try to block all of his attacks, you can even block him with plants that don't deal any damage, as he does damage to himself at the end of each turn. Using Cool Bean can prevent him from attacking, and with his ability, he will likely be a waste. Using Pecanolith also works as he will turn him into a 1-strength zombie that destroys himself next turn, wasting his potential to do massive damage.
Gallery
Plants vs. Zombies Wiki
has a
gallery
for Exploding Imp (PvZH).