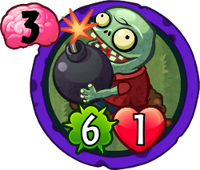 For other versions, see Imp (disambiguation).
Exploding Imp

Statistics
Strength
Health
Cost
6
1
3
Set
Premium
Rarity
Uncommon
Class
Tribe
Imp Zombie
Traits
Gravestone
Abilities
End of Turn: This does 1 damage to itself.
You could say he's an IMPlosives expert.
Exploding Imp is a premium uncommon zombie card in Plants vs. Zombies Heroes, and a member of the
Crazy class. He costs 3

to play, and has 6

/1
. He has the Gravestone trait, and his ability does 1 damage to him at the end of every turn, starting from the turn he is revealed.
Statistics
Class: Crazy
Tribe: Imp Zombie
Trait: Gravestone
Ability: End of Turn: This does 1 damage to itself.
Set - Rarity: Premium - Uncommon
Card description
You could say he's an IMPlosives expert.
Update history
Update 1.2.11
Set - Rarity changed from Basic - Common → Premium - Uncommon
Strategies
With
Statwise, this zombie is a glass cannon. He is one-use, as he will destroy himself regardless of whether or not he survived the turn he is revealed. And because of that, you would want to use this to destroy or heavily damage something with a lot of health, like Soul Patch, Super-Phat Beets, or simply do heavy damage the plant hero.
If you want to use this zombie for a longer period of turns, you can use cards that increase his health such as Rock Wall (only available to Z-Mech), Camel Crossing or Monster Mash, since he will do 1 damage to himself instead of instantly destroying himself if his health is boosted. If you want him to become extra devastating, either give him more strength, 

Frenzy from a trick or Coffee Zombie (if Exploding Imp can survive a hit), or

Deadly from Toxic Waste Imp, although 6 damage is enough to destroy almost any plant even without it. However, giving him

Deadly instantly destroys him at the end of the turn, regardless of his health.
Electric Boogaloo can boost Exploding Imp's stats with Loudmouth or Vitamin Z so he can withstand plant attacks better, plus he hits even harder. Electric Boogaloo can also perform a lethal late-game combo by using Maniacal Laugh on Exploding Imp right after he is revealed, turning him into a 11

/6
with

Frenzy, which in turn allows him to plow through the field and do a whopping amount of damage to the plant hero if there is a plant with 5

or less blocking his way. This combo is particularly great against Soul Patch, as Exploding Imp will have enough strength to take down Soul Patch in just one hit, while at the same time surviving the attack and landing a devastating bonus attack on the plant hero.
Impfinity can combine this zombie with Headstone Carver to get some more damage done. In addition, if there are no plants in its lane, he will survive another turn. In this case, it's best to use Backyard Bounce to protect Exploding Imp so he can dish out the most damage possible. Impfinity also has access to many Gravestone zombies that cost 3 brains, so the plant hero could never tell what zombie is in that gravestone. For example, he can play Jester instead of Exploding Imp to bait the plant hero into playing a weak plant in front of the gravestone. In-Crypted can also be used if you need an extra turn to protect Exploding Imp, and then use a trick such as Backyard Bounce to guarantee a hit on the plant hero. Alternatively, Headstone Carver could boost him again in this case.
As with other glass cannons, Professor Brainstorm can make Exploding Imp do a bonus attack with Lurch for Lunch or Electrician, or get rid of the plant blocking him with damaging tricks such as Cakesplosion. This way Exploding Imp will be guaranteed with a straight hit on the plant hero before he destroys himself. However, if you are playing both Exploding Imp and Electrician on the same turn, you must play Exploding Imp at any left lane and the Electrician at any right lane, because gravestones reveal zombies from left to right.
Because this zombie comes out of a gravestone, this zombie is basically invincible to all plant tricks the turn he is played, with the exception of Grave Buster. If a weak plant is played to sponge the hit, move, Bounce, or destroy that plant with a trick to clear the way.
Against
This zombie can do a lot of damage and is mostly used to attack the hero, so watch out for him in the third turn or above and try to defeat or block this zombie. If this zombie is boosted, he becomes a bigger threat, due to him being able to attack multiple times without killing himself, try to block all of his attacks, you can even block him with plants that don't deal any damage, as he does damage to himself at the end of each turn.
Gallery
Old
Trivia