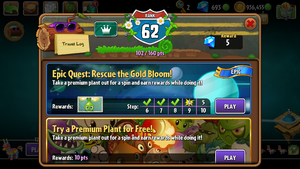 The Epic Quests are new features released on the 4.6.1 update of Plants vs. Zombies 2. They are accessible via the Travel Log. An epic quest is a multi-level quest that offers a unique reward when completed, which can vary from coins, gems to the new plants, such as Gold Bloom, Electric Currant, and Aloe.
Although there are some exceptions, these levels are modified versions of existing ones, and cannot be replayed once completed unless the player plays on another account.
At the moment it is unknown what triggers the first Epic Quest, but after one point a message saying New Epic Quest Available near the Travel Log access icon will appear (shortly), unlocking them. Currently there are seven Epic Quests, with more being introduced in future updates.
List of Epic Quests
Rescue the Gold Bloom
This Epic Quest showcases the Gold Bloom, and offers it as a reward for its completion. Contrary to the other epic quests, these ones are not restricted to be slightly altered Brain Busters, as portals and zombies from other worlds can appear.
Beghouled Blitz
Beghouled Blitz consists of 5 levels of Beghouled, each from a different world, with different plants. Zombies from that respective world show up as the zombies.
Aloe, Salut!
This Epic Quest has 8 steps, with all of them showcasing Aloe, and as usual this plant is obtained at the end of this quest. This quest is also the only way to see a nighttime Lost City.
Electrical Boogaloo
This Epic Quest is unlocked after the completion of the Beghouled Epic Quest. This Epic Quest has 10 steps, with many of them featuring the Electric Currant, which is also the reward after completing all ten steps of this Epic Quest.
Gem Jam
The last Epic Quest to appear on the game. Each step is an world exclusive Brain Buster except on the worlds where there isn't any. After completing all 10 steps, the player is rewarded with 50 gems.
His & Hers Expert Quests
Those two Epic Quests are only available from February 8, 2017 to February 15, 2017. They are no longer available.
His & Hers Expert Quest - HERS!
This Epic Quest features Ancient Egypt Days 26-35 as the equivalent of its 10 steps. The reward is 100 Blooming Heart seed packets.
His & Hers Expert Quest - HIS!
This Epic Quest features Modern Day Days 35-44 as the equivalent of its 10 steps. The reward is 100 Hot Date seed packets.
Trivia
When doing the Beghouled Blitz Epic Quest, defeated zombies that have repeatable quest for that moment will not count towards their respective quest.
The 5.1.1 update is so far the only version that features only one Epic Quest.
Ad blocker interference detected!
Wikia is a free-to-use site that makes money from advertising. We have a modified experience for viewers using ad blockers

Wikia is not accessible if you've made further modifications. Remove the custom ad blocker rule(s) and the page will load as expected.