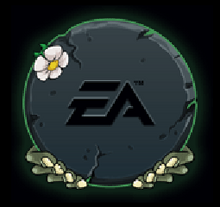 Electronic Arts, commonly referred to as EA Games or simply EA, is an American developer, marketer, publisher and distributor of video games headquartered in Redwood City, California, United States.[1] Electronic Arts was founded on May 28, 1982 by Trip Hawkins.
On July 12, 2012, PopCap Games was acquired by EA Games and had become a subsidiary of it. EA Games has become the publisher of all PopCap games, including Plants vs. Zombies 2 and Plants vs. Zombies: Garden Warfare.
Origin is Electronic Arts' platform for distributing games. Both Plants vs. Zombies and Plants vs. Zombies: Garden Warfare can be bought using this service. In May 2014, the Game of the Year edition of Plants vs. Zombies was available for free as part of Origin's "On the House" promotion.
External links
References
Ad blocker interference detected!
Wikia is a free-to-use site that makes money from advertising. We have a modified experience for viewers using ad blockers

Wikia is not accessible if you've made further modifications. Remove the custom ad blocker rule(s) and the page will load as expected.