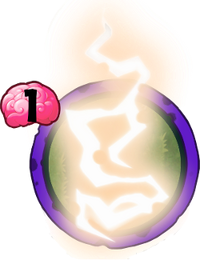 Electrobolt

Statistics
Strength
Health
Cost
-
-
1
Rarity
Super-Rare
Class
Tribe
Superpower Trick
Abilities
Do 3 damage to a Plant.
Ever get zapped by static electricity? It's like that, times a bazillion.
Electrobolt is a super-rare zombie superpower trick card in Plants vs. Zombies Heroes, and a member of the
Crazy class. It costs 1

to play, and its ability does 3 damage to a selected plant. Its plant counterpart is Meteor Strike.
Statistics
Class: Crazy
Tribe: Superpower Trick
Ability: Do 3 damage to a Plant.
Rarity: Super-Rare
Card description
Ever get zapped by static electricity? It's like that, times a bazillion.
Update history
Update 1.2.12
Strategies
With
Unlike Bungee Plumber, this trick does more damage for the same price, but with the inability to target your opponent directly. Nonetheless, it does enough damage to destroy many dangerous threats, such as Bananasaurus Rex, Bloomerang, Black-Eyed Pea, and other plants with 3 health.
If you are playing as Electric Boogaloo, this superpower is basically the same as Stayin' Alive, unless you need your health back.
Against
Since it is a trick, there is nothing you can do on the turn it is used. However, you can reduce the impact by boosting the plant's health or by having a lot of threats on the field.
Gallery
Old
Trivia
The word "bazillion" in its description is a portmanteau of the slang term "zillion," used to represent a very large number and the number "billion".
Its name may be inspired by the Magic Power of the same name from Peggle Nights, another game by PopCap Games.