For the Plants vs. Zombies 2 plant, see E.M.Peach.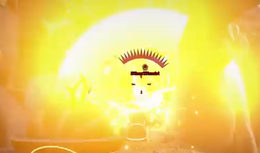 EMPeach is the first ability for Citron in Plants vs. Zombies: Garden Warfare 2. It stuns all zombies in a medium area, preventing them from using their abilities. It deals 10 damage on impact, and 5 damage for over 2-5 seconds afterwards.
Stickerbook description
More than just a robotic peach with a cute name, the EMPeach has been specially designed to stun Zombies, and especially Z-Mechs!
Strategies
With
The EMPeach works like the Engineer's Sonic Grenade. It takes time to start, but unlike the Sonic Grenade, it deals damage to zombies hit by it as well as stunning them.
Z-Mechs are especially vulnerable to it. When used on it, the Mech will not be stunned longer than other zombies, but even when the Z-Mech regains the ability to move and shoot, its abilities will remain disabled for longer. To boot the mech, it will take constant damage after being hit, for about 60 health from EMPeach.
Keep in mind that the stun effect from EMPeach can stop a zombie from using any ability and also heavily reduce their movement. This means that the hard-to-hit zombies such as Imp can easily be shut down due to its reliance on moving a lot and using its abilities.
Also, if you run out of ammo or overheat, this can be used as a last-ditch effort to vanquish your enemy.
Gallery
Trivia
Its name and ability is a reference to E.M.Peach from Plants vs. Zombies 2, though it omits the periods.

However, it can also stun non-mechanical zombies, while E.M.Peach is only able to stun mechanical zombies.

If the player stuns 50 Z-Mechs with it, they will earn the Just Peachy! achievement.
Despite the fact that it is supposed to stun robot zombies longer than regular zombies (such as the Z-Mech) because it is based off an electronic-disabling EMP, it still stuns Build-a-Bots, Mech Gargantuar, Defender Bot, Robo-Zombie, and Future Imp for the same amount of time as normal zombies.
See also