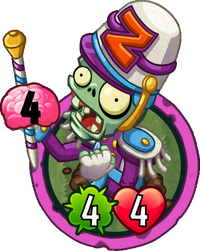 Drum Major is a basic common zombie card in Plants vs. Zombies Heroes, and a member of the

Brainy class. He costs 4

to play, and has 4

/4

. He does not have any traits or abilities.
Statistics
Class: Brainy
Tribes: Dancing Sports Zombie
Traits: None
Abilities: None
Set - Rarity: Basic - Common
Card description
Recently promoted from Drum Minor.
Strategies
With
As a rather average zombie with no traits or abilities, Drum Major relies on his two tribes, dancing and sports, to make an impact on the field. This allow him to benefit from the abilities of Team Mascot, Zombie Coach, Aerobics Instructor, and Flamenco Zombie, creating synergy in decks with Professor Brainstorm and Rustbolt. Outside of these two heroes however, the player might be inclined to replace him with other zombies, as Drum Major is, at best, a mediocre fighter without support from allies, like Vanilla.
Against
Try to use powerful plants or stall with weak plants to destroy this zombie. Using tricks will also aid the plant hero in destroying this zombie. If your opponent is Rustbolt, beware the combination of Drum Major and Team Mascot. If this happens, get rid of Team Mascot immediately, or try to go after Drum Major. This also includes when you are going against Professor Brainstorm, as he can use Aerobics Instructor and Flamenco Zombie to let Drum Major do severe damage.
Gallery
Old
Trivia