Dr. Zomboss's Revenge
Talk

3
704pages on
this wiki
Dr. Zomboss's Revenge is the final mini-game on most versions of Plants vs. Zombies.
This mini-game is a repeat of the battle with Dr. Zomboss, however it is more difficult because the Zombot now has double the health (3,165 normal damage shots). It is also a conveyor-belt level, meaning the player is forced to use a predetermined set of plants, rather than choose them on their own. Between the two, this level can be quite a challenge.
Icons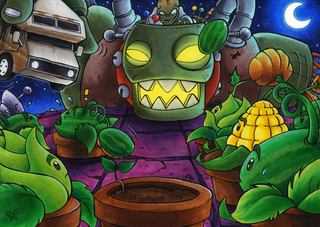 Strategy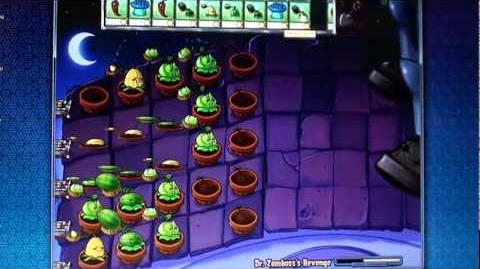 See Dr. Zomboss for more strategy.
Fill the slant of the roof with plants, leaving an empty Flower Pot for Jalapenos and Ice-shrooms at the end of each row. Destroy the Zombot's attacks as they come, using an Ice-shroom against his fireballs, and planting Jalapenos in rows with iceballs. Freezing him with Ice-shrooms will prolong potential damage time. Whenever plants are destroyed, replace them as soon as possible (especially when Dr. Zomboss throws a camper and destroys up to six of your plants).
Tips
See Dr. Zomboss for more tips.
Co-op Zomboss
Co-op Zomboss is the tenth level in Co-op Mode, which is exactly same as this level, except for the fact that you are playing with your friend and each player can only store six Plants.
Gallery
Trivia
See Also
†: Strategy page