For other uses, see Doom-shroom (disambiguation).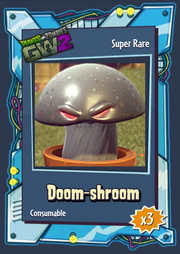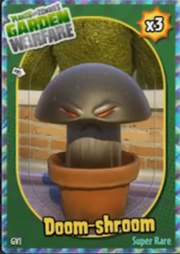 Doom-shroom is a Spawnable Plant in Plants vs. Zombies: Garden Warfare and Plants vs. Zombies: Garden Warfare 2. It was first added in the Garden Variety DLC update. It can be obtained from sticker packs. When zombies approach it, it uses its attack, Doom: an extremely powerful gigantic explosion that deals 200 damage. However, the drawback to this is that the Doom-shroom will then hide and become vulnerable while it "recharges" for about 30 seconds.
Stickerbook description

Doom-shrooms are extremely damaging but take time to regenerate.
A Doom-shroom has 100 health.
Strategies
This should be planted near the garden, as many zombies will focus on it and may not notice the Doom-shroom. However, a drawback is that when it is about to detonate, it will make a loud and quite noticeable sound, which can alarm some zombies. When it detonates, it will be vulnerable for about 30 seconds, so you should protect it until it is ready to detonate again. Doom-shroom is recommended to use in Night Maps. While it does not do much, its dark color will allow it to make it harder to see. This will surprise and kill any zombie that does not suspect a Doom-shroom to be in a flower pot.
Gallery
Trivia
Unlike in Plants vs. Zombies, it does not leave behind a crater or destroy its flower pot when it detonates.
So far, it, Ice-shroom and Browncoat Zombie are the only consumables with Christmas costumes.

In the case of this plant, it has deer antlers and a red nose, known as Cariboom.

It is a reference to the animal caribou or Rudolph the Red-Nosed Reindeer.

It levitates before exploding.
Unlike the first game, it does not disappear upon detonation.
Ad blocker interference detected!
Wikia is a free-to-use site that makes money from advertising. We have a modified experience for viewers using ad blockers

Wikia is not accessible if you've made further modifications. Remove the custom ad blocker rule(s) and the page will load as expected.