Ad blocker interference detected!
Wikia is a free-to-use site that makes money from advertising. We have a modified experience for viewers using ad blockers

Wikia is not accessible if you've made further modifications. Remove the custom ad blocker rule(s) and the page will load as expected.
For other uses, see Disco Zombie (disambiguation).
Disco Zombie
is a
zombie
that is a boss in
Plants vs. Zombies: Garden Warfare
and
Plants vs. Zombies: Garden Warfare 2
, armed with a rapid-shooting recorder and a high-damage whirlwind attack. His attacks are named Disco Stick and Disco Whirlwind.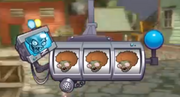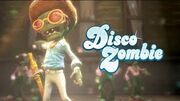 Overview
The Disco Zombie appears only in boss waves when the Zomboss Slot Machine lands on a face of a Disco Zombie. Then, a Disco Zombie appears in the wave. During a Super Disco Wave, Backup Dancers will appear often, replacing Browncoat zombies (Along with customized Imps in Garden Warfare 2).
Abilities
Disco Stick: Shoots rapidly from his recorder-like machine gun.
Disco Whirlwind: Uses a disco ball to spin around rapidly to hit plants nearby, dealing 26 damage.
Uses his disco ball as a helicopter to reach higher places.
Super Disco Wave Cutscene
When the slots land on three Disco Zombies, an animation will show with spotlight turning on in a dark room. Then, the disco ball appears from the floor, and Disco Zombie unearth himself. He then summons four Backup Dancers and gets out of the hole. Then he kicks the stone near the hole and whirls in dance. The recorder then comes out of the hole and Disco Zombie grabs it. The cutscene ends and the boss fight begins. During a Super Disco wave, Backup Dancers will appear often, replacing Browncoat zombies.
Gallery
Videos
Trivia
Unlike in the first game, he has a recorder.
He is based on the new Dancing Zombie from Plants vs. Zombies.

However, it has a different name.

He was going to be a playable character but it was scrapped for unknown reasons.
He is the only boss zombie that is affected by the Flag Zombie.
His rapid attack can be stopped by the Chomper's Goop ability.
They cannot be damaged while spinning, so it is recommended to stay away from them while they are using their whirlwind attack.
In the quest "Impsomnia", When the Disco Chomper boss comes out, the Disco Zombie's music can be heard.
The Chomper can use Burrow to stop the Whirlwind attack.