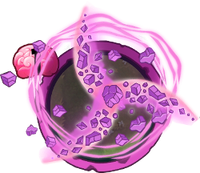 Cut Down to Size

Statistics
Strength
Health
Cost
-
-
1
Rarity
Super-Rare
Class
Tribe
Superpower Trick
Abilities
Destroy a Plant that has 5 or more.
"The tallest blade of grass is the first to get cut. Braaainz!" - Ancient Zombie Proverb
Cut Down to Size is a super-rare zombie superpower trick card in Plants vs. Zombies Heroes, and a member of the

Brainy class. It costs 1

to play, and its ability destroys a selected plant with 5
or more.
Statistics
Class: Brainy
Tribe: Superpower Trick
Ability: Destroy a Plant that has 5 or more.
Rarity: Super-Rare
Card description
"The tallest blade of grass is the first to get cut. Braaainz!" - Ancient Zombie Proverb
Update history
Update 1.2.12
Restricted to Super Brainz and Rustbolt.
Description change: Was originally The bigger they are, the harder they fall.
Strategies
With
This card is similar to Rocket Science, as it can be handy for plants that get too powerful, like Super-Phat Beets, Pea Pod, or Doubled Mint. It can also be used to destroy high strength glass cannons like Carrotillery.
Keep in mind that Rocket Science has a similar ability, but has a higher brain cost and can be used on plants with 4
or more instead of 5
so it can be more useful in terms of how many plants it can destroy.
Gallery
Old
Trivia
Its current description is a reference to a Russian proverb, "The tallest blade of grass is the first to be cut by the scythe."
Its original description is based on an actual idiom.