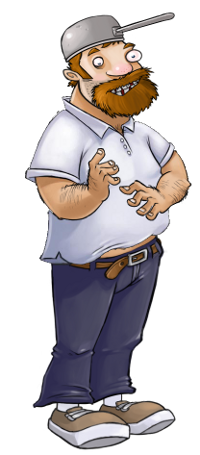 "

Why? BECAUSE I'M CRAAAAAAAZY!

"

—Crazy Dave
Not to be confused with his brother Evil Dave.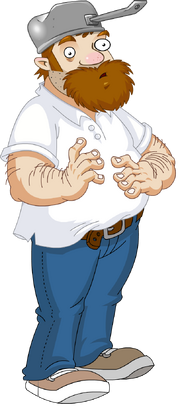 Crazy Dave is the deuteragonist in the Plants vs. Zombies series. During Adventure Mode, Crazy Dave serves as a sort of narrator, introducing the player to certain levels and explaining some of the mini-games and bonus levels. He is later abducted by a Bungee Zombie on level 5-10 right before he can tell the player Dr. Zomboss' weakness. He also has a shop called Crazy Dave's Twiddydinkies that he runs from the back of his car, once the player finds his car keys (after Level 3-4). He sells several plant upgrades, extra defenses, and Zen Garden items. He is rarely seen without a pot on his head.
When replaying Adventure Mode, Crazy Dave will randomly pick three of the player's plants for each level, which cannot be switched out, but quitting and reloading the game makes him choose three different ones.
Crazy Dave will buy a Magic Taco, found only on Level 4-4 of the first play-through of Adventure Mode, for $1000. He will also reward the player with two Marigolds of random colors when the Zen Garden is unlocked, as well as five bags of fertilizer. Marigolds cost $2,500 at Crazy Dave's Twiddydinkies and a five-pack of fertilizer is only $750.
Crazy Dave appears again in Plants vs. Zombies 2 after beating Player's House - Day 4. After the player gets a hot sauce, he wants to borrow for his taco. He said it was amazing and he wanted to eat it again. To do this, he has a new friend named Penny, a time machine that can travel through time. After that, the real trip has started, first in Ancient Egypt.
Audio
These are the audios of Crazy Dave used in Plants vs. Zombies.
BECAUSE I'M CRAAAAAAAZY!
The sound that Crazy Dave makes when he says "BECAUSE I'M CRAAAAAAAZY!".
Short speeches
The short speeches of Crazy Dave.
Long speeches
The long speeches of Crazy Dave.
Extra long speeches
The extra long speeches of Crazy Dave.
Screams
The screams of Crazy Dave.
Gallery
Plants vs. Zombies Wiki
has a
gallery
for Crazy Dave.
Trivia
General
Plants vs. Zombies
Plants vs. Zombie Adventures
Plants vs. Zombies 2
Plants vs. Zombies: Garden Warfare series
Comics
Easter Eggs and Cameos