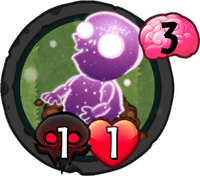 Cosmic Imp

Statistics
Strength
Health
Cost
1
1
3
Set
Galactic
Rarity
Rare
Class
Tribe
Imp Zombie
Traits
Deadly
Abilities
When played: Conjure an Imp, and it gets Deadly.
When he gazes out at the stars, he feels small. Because he's an Imp.
Cosmic Imp is a galactic rare zombie card in Plants vs. Zombies Heroes and a member of the

Sneaky class. He costs 3

to play, and has 1

/1

. He has the
Deadly trait, and his ability Conjures an Imp card when he is played and gives it the
Deadly trait if it's not a trick or environment card, excluding Cakesplosion.
Origins
His appearance is based on Imp.
His name is a portmanteau of the words "cosmic", referring to his appearance and ability; "imp", referring to the tribe he and the zombies that he conjures are in; and "Imp".
Statistics
Class: Sneaky
Tribe: Imp Zombie
Traits: Deadly
Ability: When played: Conjure an Imp, and it gets Deadly.
Set - Rarity: Galactic - Rare
Card description
When he gazes out at the stars, he feels small. Because he's an Imp.
Update history
Update 1.16.10
Strategies
With
Cosmic Imp has low stats for 3

, but makes it up for his
Deadly trait and conjuring an Imp that will get
Deadly. Due to this, only use Cosmic Imp against a strong plant and not in an empty lane. Even if he has very low stats, he can destroy a plant as long as he does not get destroyed before the Fight! phase.
With Cosmic Imp's ability, you can get any Imp such as Imp Commander and Walrus Rider that can not only destroy any plant regardless of the plant's health but also benefit in an Imp-based deck. However, you could also get cards like Toxic Waste Imp that already has
Deadly or an Imp trick like Triplication which ignores the addition of
Deadly. However, Cosmic Imp could conjure Cakesplosion in which it can have
Deadly, making it a perfect way to destroy a plant as long as the plant is not shielded.
You can also Bounce him with Firefighter or Secret Agent or play In-Crypted or Mixed-Up Gravedigger to reuse his ability.
Against
This zombie is generally easy to destroy as he has 1

/1

. However, do not be fooled if he is played in a lane with a strong plant as he can destroy it very easily. You must also watch out for Imps that has been Conjured by him since they will also have
Deadly.
Since he cost the same as Smelly Zombie but without the Gravestone trait, you can use tricks like Banana Bomb or Water Balloons to destroy him. Also, do not Bounce him unless you are able to win this turn, as he can be replayed to Conjure another Imp with Deadly.
Gallery
Trivia
He has no legs when he activates his ability.
The names of the zombie he is based on and the tribe he and the zombies he conjures are the exact same word.

He is the only cosmic fighter and cosmic zombie to have this in his name.