Conehead Zombie (Plants vs. Zombies Adventures)
Comments

0
For other uses, see Conehead Zombie (disambiguation).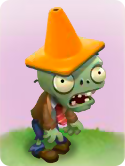 Conehead Zombie

The traffic cone makes him twice as tough

Toughness
Medium
First appears
The Boonies Level 3
Cost of neighbor attack
400 coins
Training cost
100 coins
Training time
Two minutes



Conehead Zombie is a zombie in Plants vs. Zombies Adventures. Conehead Zombie first appears in The Boonies Level 3. After that, it appears in almost every level.
Encounters
Gallery
Trivia
Conehead Zombie and DJ Zom-B are the only zombies to not appear in every level of the map they are introduced in.
Conehead Zombie does not appear in any level of The Sand Dooms, but it reappears in a few levels of Zombitorium Manor.