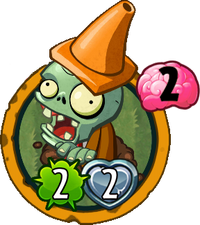 For other uses, see Conehead Zombie (disambiguation).
Conehead

Statistics
Strength
Health
Cost
2
2
2
Set
Basic
Rarity
Common
Class
Tribe
Professional Zombie
Traits
Armored 1
Abilities
None
Almost went out with a lampshade on his head. Thought better of it.
Conehead is a basic common zombie card in Plants vs. Zombies Heroes, and a member of the

Hearty class. He costs 2

to play, and has 2

/2
. He has the

Armored 1 trait, and does not have any abilities.
Origins
He is based on the zombie in Plants vs. Zombies with the same appearance.
Statistics
Class: Hearty
Tribe: Professional Zombie
Trait: Armored 1
Abilities: None
Set - Rarity: Basic - Common
Card description
Almost went out with a lampshade on his head. Thought better of it.
Update history
Update 1.2.11
▲

Strength change: 1 → 2

▲

Trait added: Armored 1

▼

Brain cost change: 1 → 2
Update 1.4.14
▼

Health change: 3 → 2
Strategies
With
Conehead has an average stat ratio of 1

/1
 per brain. However, due to his

Armored 1 trait, Conehead needs to take 3 damage at once, instead of 2, to be destroyed. He takes 2 attacks that do 2 damage each to be destroyed, and he also nullifies anything that does 1 damage, such as Lightning Reed, Puff-Shroom, and Sour Grapes' ability.
Against
On the 2nd turn, unless you have one of the following cards below, you have no other option but to sacrifice a plant or two to destroy Conehead.
Cards that cost 2 sun or less and can destroy Conehead in one attack: Tater Toss, Peashooter behind a Torchwood, Bonk Choy, Fire Peashooter, Precision Blast, Wild Berry, Berry Blast, Meteor Strike, Weed Whack, Devour
Cards that cost 3 sun and can destroy Conehead in one attack, only usable by

Solar heroes if they play Sunflower or Sunburn in turn 1: Muscle Sprout, Zapricot, Vanilla, Mixed Nuts with a Team-Up plant, Whack-a-Zombie
Gallery
Old
Trivia
On the old title screen, he is seen wearing a blue tie. However, the tie is red in-game.
Ad blocker interference detected!
Wikia is a free-to-use site that makes money from advertising. We have a modified experience for viewers using ad blockers

Wikia is not accessible if you've made further modifications. Remove the custom ad blocker rule(s) and the page will load as expected.